Isaiah Washington Update: Despite Apologies, Actor's Job Not Safe Yet
Steve Marsi at . Comments
Unfortunately, the storm of controversy swirling around Isaiah Washington and the gay slur he made about his co-star, T.R. Knight, is not only failing to dissipate, it's generating more and more attention with each passing day.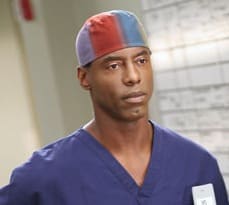 ABC released a statement after his now infamous
Golden Globe
meltdown saying the network has "a long-standing policy to create and maintain respectful workplaces" and wouldn't tolerate actions like Washington's. The network did not say, however, what action it would take, if any, and recent reports hinted that his
job was safe
.
The week following the Golden Globe debacle saw the embattled actor release a strong statement of apology, and meet with leaders of the gay community to make amends. By and large, his efforts were well received by the people he met with.
But despite his public apologies, the actor's job may be in jeopardy. Ratings for the show didn't dip much last week, but an executive at ABC's parent company, Disney, acknowledged the possibility of Washington being axed. The executive told the New York Times that his behavior may run afoul of Disney's discrimination policy.
This incident has provoked strong feelings for and against Washington's removal. Many observers, such as Maureen Ryan of the Chicago Tribune, say it's hypocritical for Washington to remain on the set and that he should be removed for the good of the show. With an unabashedly multicultural cast, its reputation as a beacon of diversity will be forever tarnished if this behavior is not addressed by Shonda Rhimes and the higher-ups.
Others, such as Jasmyne Cannick, a social commentator, activist and member of the National Association of Black Journalists (she is also a lesbian) recently launched a petition to keep Washington on the show. You can read her justification for starting the pro-Isaiah campaign by following the link, and check out the petition to save his job here.
How it all plays out remains to be seen, but according to E! Online sleuth Kristin Veitch, Washington is definitely not out of the woods yet. Executives at ABC are contemplating ways to sack the troubled star. She writes on her official blog:
"I just received word from a highly placed source within the Touchstone/ABC family that ABC and Disney executives are currently considering the option of firing Isaiah Washington from Grey's Anatomy, effective immediately, without having him appear in any kind of farewell episode.
According to this reliable source, if the network does follow through with this option, the producers are likely to run a full-screen announcement at the beginning of the first Burke-less episode announcing that Isaiah Washington is no longer part of the show.
I'm also told by various sources that the loss of Preston Burke is not an easy task for Grey's writing staff to deal with, given that he has a major storyline (including a life-changing event) coming in the next few episodes that air during February sweeps. Those episodes have already been shot."
Steve Marsi is the Managing Editor of TV Fanatic. Follow him on Google+ or email him here.