This week on the Round Table, Richard is rebuffed, Addisex takes a step back, the race for Chief is on, and a couple of very serious questions are popped ...
Besides the ineligible Dr. Bailey, who would make the best Chief: Derek, Preston, Addison or Mark?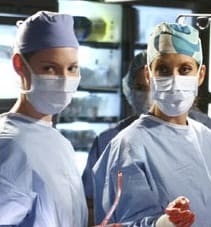 McCritic:
Derek. Now that he's learned how to be McScreamy, as well, Shepherd has the perfect combination of strictness, kindness and professionalism to handle the job well. And hair. The man has hair that simply won't quit.
Married-to-McDreamy: I vote for Addison. Clearly Derek and Preston have too many ego issues that would get in the way of either leading the surgical department with a clear head, and Mark just hasn't been there long enough.
Addison, on the other hand, is a strong, professional woman and it would be terrific to see a female take over that position.
iheartizzie: Mark's only out for himself, Burke blew his chance by disguising his hand tremor, and Derek isn't hardened enough. The only knock on Addison Montgomery is personal - she's an adulterer. So was Bill Clinton, though, and there's a good bet Americans would elect him over George W. Bush now if given the opportunity. Just saying.
Was Alex serious about not being into Addison, or just saying that to get back on the vagina squad?
Married-to-McDreamy: That was completely and utterly false. Alex just wants back in on Addison's surgeries and I think it's pretty clear that he was into her when they had their "moments" on the previous episodes. Alex knows what he's doing in this situation. Before we know it, Addison will be crawling after him.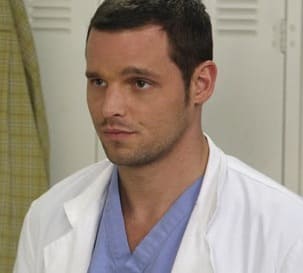 McCritic: The latter. But he doesn't wanna be in gynecology, no.
iheartizzie: I think Karev is hedging his bets here. He sees how thrown off Addison is, so by playing it cool, at least he gets to scrub in. He definitely still wants her, but there's no sense in playing your hand too soon and losing both the surgeries and the McHot doctor, you know?
Will Adele come around and welcome Richard home?
Married-to-McDreamy: I hope so. That was very sad when Richard was left on the front porch with his little bouquet. My guess is that she'll make him sweat a little but then eventually let him come home and explain that he really screwed up.
McCritic: Adele if I know.
iheartizzie: Man I hope so. We weren't shown how hard it must have been for the Chief to announce his retirement from the institution that has been his life for so many years, but it couldn't have been easy. Even if it took him far too long, he made this decision for Adele. They've got at least 20 good years left, and hopefully, Mrs. Webber will realize they should spend them together. And let Richard work a few days a week.
So we saw two marriage proposals in "Great Expectations." Which, if any, will be accepted?
iheartizzie: Like the aforementioned Bill Clinton, I will look to my most trusted guide before stating my position - the polls. As of this posting, 52 percent of Insider respondents feel only Cristina and Preston will wed, while another 14 percent think we'll see both couples walk down the aisle. So, Burktina it is, then! Still, you can't count out that George O'Malley. Smart, sensitive and a sex machine!
McCritic: Callie looked more comfortable cutting a conscious man's leg in half than she did looking down at a proposing George. Cristina, conversely, looked stern, judgmental and completely unaffected. In other words, she's thrilled. Schedule the Burktina wedding now.
Married-to-McDreamy: I truly hope that Cristina accepts Burke's proposal but I do not think O'Callie should tie the knot. Not yet at least. I think George is overly emotional and making drastic decisions because of his grief.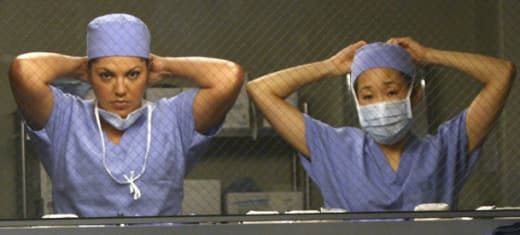 Steve Marsi is the Managing Editor of TV Fanatic. Follow him on Google+ or email him here.