In the last Thursday before new episodes return (finally), ABC will be showing the terrific "From a Whisper to a Scream" tonight at 9 p.m. EST.
Originally airing on Thanksgiving night, this was - in the Insider's opinion - the best episode of Season 3 to date. The primary story line revolves around the poor health of George's father, and tension rising regarding the secret of Burke and Cristina. It is an hour of intense drama even more emotive than the usual Grey's Anatomy fare, and certainly worth a second viewing. There's also the first signs of a spark between Addison and Alex (Addex).
You can view our episode guide by following the link above, and use this link to view our image gallery. We also have compiled a list of music (with lyrics) from the episode, and as always, assembled a list of memorable quotes. For you fans who love a good debate, our staff's weekly Round Table discussion is also worth a read.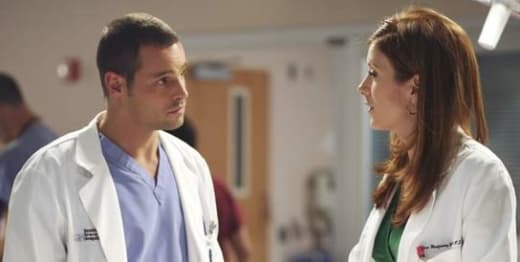 Following "From a Whisper to a Scream," another episode will air at 10. We believe this will be "Don't Stand So Close to Me," the most recent episode. It's a good opportunity to catch up before new episodes return. Be sure to check out our pictures, list of quotes and collection of music from that episode.
Enjoy, and get ready for new episodes to return next week!
Steve Marsi is the Managing Editor of TV Fanatic. Follow him on Google+ or email him here.