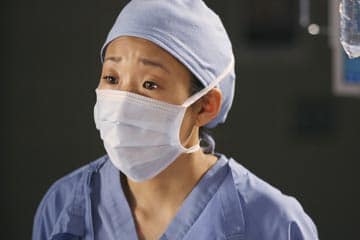 The wait is finally over.
Tonight, Grey's Anatomy returns with an all-new episode entitled "Six Days." Written by acclaimed writer/producer Krista Vernoff, tonight promises to be full of drama, heartbreak and emotion.
As usual, we'll have our episode guide and lists of all the memorable quotes, pictures and music up as soon as we can after the show airs. But now, here's a look at what's to come. DO NOT READ below if you want to avoid all potential hints / spoilers.
~~~~~~~~~~~~~~~~~~~~~~~~~~
After a successful operation on his heart, Mr. O'Malley undergoes a second surgery for his cancer. Meanwhile, Thatcher Grey pays a visit to Seattle Grace to see his new granddaughter. Meredith discovers Derek has trouble sleeping soundly... and that she may be the cause.
A 17-year-old patient, Heather, is admitted - with a bad attitude resulting from her medical condition and the surgeries it's required her to have. A woman has an emotional breakdown as she tries to hand over something very important to her.
Lastly, a doctor's family comes to town to visit to celebrate an occasion... and our sources tell us tonight may be Part I of a two-part thriller. We'll see if this holds true! All the details here are hinted at in the preview below, but it's still fun to speculate! We're counting down the minutes...
[youtube]http://www.youtube.com/watch?v=a0s_4fXpSic&mode=related&search=[/youtube]
Steve Marsi is the Managing Editor of TV Fanatic. Follow him on Google+ or email him here.