After last week's shocking ending, Grey's Anatomy fans are understandably desperate to learn the fate of Meredith Grey.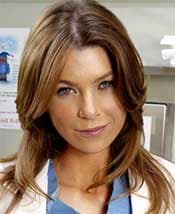 Will she be revived despite her dangerously low body temperatures, or will she, Denny and Dylan have an eternity to get better acquainted? Will the Seattle Grace world return to normal next Thursday night, or will the show have to be renamed Yang's Anatomy?
Meredith is dead. Shonda Rhimes says she doesn't play by the rules, and backed up that statement by killing the show's title character. However, the door was clearly left open for Dr. Grey to be revived, and many of us remain optimistic that it will happen.
In fact, it's practically spelled out for us in the title of the February 22 episode, "Some Kind of Miracle." At the same time, ABC and a number of other sources have tried to play down this angle by pointing out that at the end of "Some Kind of Miracle," somebody is going to be dead.
But will it be Meredith Grey?
Inside sources such as Kristin Veitch at E! Online (who accurately outlined the return of Denny Duquette) and Michael Ausiello at TV Guide believe it won't be. The death that sticks will probably be that of another character.
Mer's mother, Dr. Ellis Grey, who we listed at the top of our official Grey's Anatomy Death Watch odds from last week, seems like a strong candidate, with major surgery on the horizon especially.
Still, there's plenty of speculation that it's one of the principal cast members who passes on. Spoilers only tell you so much, and after last week's "Drowning On Dry Land," we wouldn't put anything past the producers. We'll have to wait and see what happens Thursday to know for sure.
Steve Marsi is the Managing Editor of TV Fanatic. Follow him on Google+ or email him here.