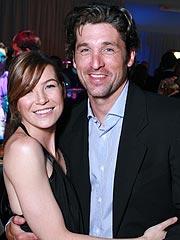 The leading man of
Grey's Anatomy
, who just became the father of
twin boys
, is "a good dad," his co-star says.
"I think the thing about Patrick is, obviously he has a tremendous love for his wife and his daughter, but he has a tremendous sense of duty," Ellen Pompeo said.
"He's really sort of old-fashioned in that way â€" he's got a good sense of being a gentleman and taking care of his family, and that's what makes him a good dad. It's an admirable quality," she tells People.
Patrick Dempsey and his wife, Jillian Dempsey, welcomed sons Darby Galen and Sullivan Patrick in Los Angeles on Thursday.
Galen is Dempsey's middle name. The couple, who have been married for seven years, also have a 4-year-old daughter, Tallulah.
In January, the 41-year-old Grey's Anatomy star spoke with Details and Life magazines about his career and fatherhood, and how his priorities are shifting by the day:
"Now, making money is about providing for my children. And being a father makes you look at yourself. You look at your marriage and go, 'How do I improve this? How do I keep growing and create a stable environment for my children?'"
It's great to see that Patrick is as happy off-screen as he is with his on-screen love, Pompeo, and that he retains a healthy perspective on life and fame.
Steve Marsi is the Managing Editor of TV Fanatic. Follow him on Google+ or email him here.