Rumors are flying that Izzie and George will be hooking up on this week's all-new episode (a rumor no doubt perpetuated by the previews for this week's episode, which we'll bring you tomorrow).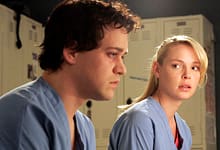 We went to
TV Guide
's Michael Ausiello for confirmation, and the insider's latest online
spoilers
are cryptic. No giveaways.
However, he does go so far as to say that after tomorrow's Grey's Anatomy airs, you'll know which one of the following six rumored plot twists (and wow, these are some interesting ones) is real:
After breaking things off with Cristina, Burke will transfer to another hospital.
Callie will reveal she's pregnant.
Izzie and George will hook up.
Izzie will be reunited with her daughter, and it's someone we've already seen on the show.
Addison will be diagnosed with a life-threatening illness.
Derek and Meredith's relationship will hit a roadblock when one of her exes (Finn?) shows up on her doorstep with one thing on his mind.
As for the low-key demise of Addisex, Ausiello hears from his sources that as soon as it was decided that Justin Chambers wouldn't be following Kate Walsh to her possible spin-off series, the producers pulled the plug on any possible romance between the two.
The thinking being: no sense in getting viewers more invested in Addisex if only one of them is definitely returning to Grey's Anatomy next season.
Which of the above rumors will prove correct? Tell us what you think. Leave us a comment and vote in our poll at right!
Steve Marsi is the Managing Editor of TV Fanatic. Follow him on Google+ or email him here.