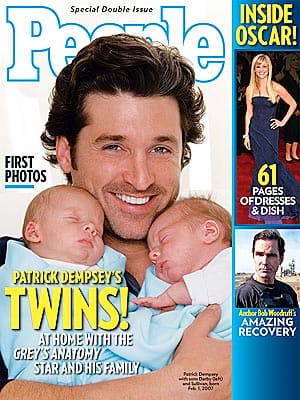 is one proud papa.
Featured in the newest People magazine, the Grey's Anatomy leading man and his whole family look extremely happy - and with good reason.
Patrick, wife Jillian and daughter Tallulah recently welcomed twin sons Sullivan Patrick and Darby Galen, born February 1 at an L.A.-area hospital.
"I was watching everything that was going on with the doctors, and you see a lot of that in the show," says Dempsey, who helped cut both cords.
The new dad admits that when he and Jillian first learned they were expecting not one, but two new additions to the family, "I was a little overwhelmed."
With three little ones occupying in the house, are there more on the way? Doesn't look like it. "I think we're done now," Dempsey says.
As for how Tallulah is handling big sister duties? Dempsey says not only did his 5-year-old help decide on the boys' names, she's "very excited and very good about taking care of her brothers."
Here are People Magazine pictures: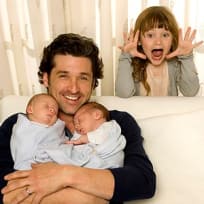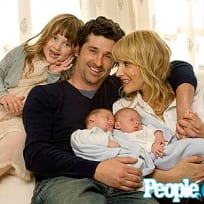 Steve Marsi is the Managing Editor of TV Fanatic. Follow him on Google+ or email him here.