ABC Execs Banking On Grey's Anatomy Secret Weapon: Kate Walsh
Steve Marsi at .
Spinoffs are a tricky business.
For every success like "Frasier," which was birthed by "Cheers," there's a "Tortellis" flop of the same lineage. The "All in the Family" DNA gave us the "Jeffersons" hit â€" and the "Gloria" disaster.
In recent years, the Los Angeles Times notes, spinning off has been largely replaced by cloning â€" as with the three "CSI" shows, which replicate the same format but with different casts in other cities.
But Thursday, "Grey's Anatomy," ABC's celebrated and culturally resonant medical soap opera, is going old school: The pilot of its presumptive spinoff, starring Kate Walsh as the popular character Addison Montgomery, is embedded within a two-hour episode of the show.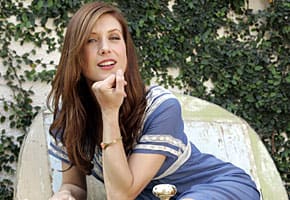 The opportunity represents a big leap forward for Kate Walsh, 39, who, pre-Addison, fell into the "I gotta look her up on IMDB" category.
"I've been very fortunate to be a working actress who hovered along," she said. "And then it was like, boom, 'Grey's Anatomy.'"
Half of Thursday's episode, "The Other Side of This Life," will be a normal episode, filled with love triangles, wedding dilemmas and medical crises; the other half will establish Addison's new world by jettisoning her from the show's Seattle hospital backdrop into a Los Angeles full of old friends and fraught relationships.
Shonda Rhimes, the obsessively secretive creator of "Grey's Anatomy," has let few plot details leak, but the new show's cast members â€" Taye Diggs, Amy Brenneman, Merrin Dungey, Tim Daly and others â€" will all make their first appearances Thursday.
Rumored to be titled "Private Practice," the show must vie for a place on ABC's fall schedule, which the network announces to advertisers and the press in mid-May.
But considering that "Grey's Anatomy" is ABC's top-rated scripted show, and more than that, has helped define its upscale, girl-power brand, it stands a good chance of becoming a series.
Stephen McPherson, ABC's entertainment president, said that when Rhimes and fellow executive producer Betsy Beers approached him with the spinoff idea in the fall, "I immediately kissed them," he remembered with a laugh.
"I flipped for it."
In three seasons, "Grey's" has already caused Americans to become addicted to the "Mc" prefix, Ã  la Derek "McDreamy" Shepherd (
Patrick Dempsey
); it has imbued the word "seriously" with such meaning that it has ceased to be a mere adverb and is now more likely to be an entire sentence; and, in one memorable birth scene, it catapulted the euphemism "va-jay-jay" into the mainstream ("O'Malley, stop looking at my va-jay-jay!").
And so, in a year in which the show won a Golden Globe for best drama but also fueled the gossip mill with stories of on-set fights and off-set acrimony, the "Grey's Anatomy" universe looks to expand.
Earlier this season, before Walsh knew a plot was brewing to create a show with Addison at the center of it, she sometimes wondered why her character was still on "Grey's" at all. Addison had been introduced to the show's heroine, Meredith Grey (Ellen Pompeo), and its audience in the last moments of the Season One finale.
Addison, a neonatal surgeon sophisticate and a snoot, was the estranged wife of Meredith's boyfriend, Derek, a.k.a. McDreamy, and she was there to get him back.
Throughout Season Two, the romantic triangle became a quadrangle and later a pentagon, with the introduction of Mark, a.k.a. McSteamy (Eric Dane), and McVet (Chris O'Donnell), and then â€" forget it.
Suffice it to say, Meredith and Derek got back together and Addison â€" who, by last year at this time, had charmed fans with her vulnerability and sense of humor â€" was left by herself.
During a recent interview over breakfast in Los Feliz, near Walsh's house and the "Grey's Anatomy" studio, she remembered wondering: "She's done with Derek, she's done with Mark â€" why is she still in Seattle? Wouldn't she go back to New York?"
She laughed and continued: "I never asked too much, because I really love workin'. So I don't care if she's there to paint the OB/GYN ward eight times a year."
Rather than feeling there was a dearth of material to occupy Addison, Rhimes and Beers thought the opposite â€" they wanted her to have a show of her own. "We weren't running around saying we wanted to do a random spinoff," Rhimes said by telephone recently.
"It was about me getting excited about the possibilities for a character. There was a lot of rich areas to explore with a woman who, especially in terms of 'Grey's Anatomy,' had quote-unquote 'everything.' Post-McDreamy, post-McSteamy."
From her first appearance on the show, Addison had evolved in unexpected ways, particularly since, as McPherson put it, "When she came in, she was a bitch on wheels."
Rhimes and Beers said the Addison part had been difficult to cast until they met Walsh. The executive producers, who, in an interview together, tended to finish each other's sentences, said simultaneously, "Oh, my God" when asked to describe their first impressions of her.
Beers then elaborated: "Early on, she displayed this incredible sympathetic quality that no matter what, you just like her. You like her!"
Initially, Walsh was signed up for a five-episode arc to serve as a threat to Meredith and Derek, but at the time she filmed her part, the "Grey's" team wondered whether the show would ever see the light of day.
"They didn't even have a time slot," Walsh said.
"They were going into a Kurtzian situation, like, are we ever going to get this? What are we doing here? They were kind of in the jungle."
When "Grey's" finally made its debut in March 2005, in the post-"Desperate Housewives" hour on Sunday nights, it became an unexpectedly big hit. And though the episode Walsh first appeared in hadn't been designed as a season finale, the surprise twist that McDreamy was actually married served as a good cliffhanger and she was brought on as a regular cast member.
"Honestly, I feel like Kate's performance had a lot to do with us realizing that there were so many more places for us to take this character," Rhimes said. "She's funny, and she could do the serious stuff really well, and she was so strong as a doctor, yet we felt that there was a warmth underneath everything that was happening."
That was a good thing, because the comedy pilot Walsh had just shot for ABC hadn't been picked up. Walsh, who was born in San Jose, went to high school in Tucson and then moved to Chicago and later New York to do theater, had had a lot of near-misses in her acting career.
"In New York, I'd be, like, 'This is it, man, I've got it now!' And then I would collect unemployment. And waitress."
Or maybe she had a delusional sense of near-misses, she now thinks. "This is a funny 'this is it': 'Henry: Portrait of a Serial Killer, Part 2.' Yeah. Part 2. Washing my hands from the food service industry, I am doing 'Henry: Portrait of a Serial Killer, Part 2.' "
A recurring role on "The Drew Carey Show" brought her to L.A. for an extended period, and then a part on the not-long-for-this-world "Mike O'Malley Show" led her to move here.
The false starts have left her with a sense of gratitude, she said. "I feel really fortunate to be in my 30s and be, like, 'Oh, I get it â€" I get how rare this is.' "
Of course, it's US Weekly's world, and we all just live in it. So what has come with the explosion of fame is increased scrutiny of Walsh's private life. "That is the weirdest thing," she said.
"I don't know if I'm just pathologically detached, but I feel like people are dealing with a hologram of me. I have intelligent people from New York calling me and saying, 'Did you really break up the engagement of Dave Annable and Sally Field?' " who play a mother and son on another ABC show, "Brothers & Sisters." "It's like, no."
There are also the uncomfortable queries about the well-publicized troubles at "Grey's" this season, which include the rumor that other members of the cast were jealous that she would be the star of the spinoff. Before this question was even asked in its entirety, Walsh said:
"Absolutely not. Not that I know of. Everyone has been truly, truly supportive and lovely. Literally every person, when they let the cast know I was going to be doing this, every single cast member called me and said, 'Congratulations.' "
And then there was â€" or maybe still is â€" the strange Isaiah Washington saga, in which the actor sought anger management treatment after busting out with a homophobic slur in public to deny the report that he had used the slur months earlier during a fight on the set. What was Walsh thinking during all of that?
"It was a big, sort of, year with all the stuff that happened," she said, speaking in a low voice. "But at the same time, it wasn't. In reality, it got, I think, incredibly blown out of proportion. That's unfortunate. But the good part is that we have a strong structure of a work ethic in the show that keeps us really busy. We did take it seriously."
That work ethic, Walsh said, flows from Rhimes, who will need it even more, assuming that the spinoff becomes a series â€" she and Beers would oversee it and "Grey's."
But despite the dual leadership, the spinoff would be different from the mother ship, they said in their back-and-forth style. Rhimes said,
"Tonally, it's a little bit lighter." Beers elaborated, "It's a little more … neurotic?" Rhimes answered, "Yeah, that's a good word for it."
McPherson said that for ABC, creating and then scheduling the "Grey's" spinoff is a risk that is "pretty well calculated."
As far as the new show's future goes, "We would have veered away from developing the idea if we all weren't on the same page," he said. "We know it's going to be a good piece. Hit shows are lightning in a bottle, so where it's going to go from here, who knows?"
Rhimes said: "I think the only way for us to wrap our minds around this is just to think about it as a separate entity. We're not making 'Grey's, Part 2,' or 'Grey's: The New Class' or whatever." She paused and laughed. " 'Grey's Anatomy: SVU.' " She paused again.
"The thing that stays the same for me are the themes that matter to me. 'Grey's' is about a group of strangers who make a family and become friends â€" that's the underpinning for me of the show. Part of the underpinnings for this new show are six people who were friends first, then started working together and that makes them an even tighter family."
Walsh, who is "terrified but thrilled" about the show's prospects and would be "hugely disappointed" were it not picked up, particularly since she said she doesn't know â€" and Rhimes wouldn't say â€" whether Addison would simply be incorporated back into "Grey's."
But she seemed sanguine that Rhimes can strike another chord.
"She's just got a big mind, man," she said. "I'm just pitching a little beach umbrella in Shonda's imagination, like, 'Ooh, this is great!'"
Steve Marsi is the Managing Editor of TV Fanatic. Follow him on Google+ or email him here.