Last week's episode saw us bid farewell to Whitney.
This week's America's Next Top Model proved equally dramatic.
According to Entertainment Weekly's recap, all began with a visitor: April, from cycle two. She's been working as a travel correspondent, it seems, and had come to relay the message that she is way smarter than the cycle 8 girls.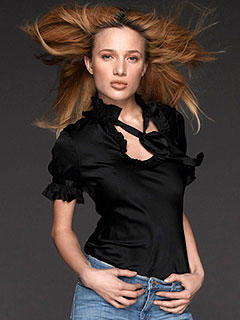 Okay, so she didn't actually say that, but her togetherness (minus the nasty purple sequined number) spoke volumes as she tried to teach the girls how to conduct interviews.
This America's Next Top Model veteran's advice? Shoot for a vibe that falls between being a chatterbox and curling up into a ball. But the girls, as April might've said, looked like deer caught in headlights.
When the girls gave the interview tactics a try on each other, the fun almost turned into a major brouhaha over who's going to win Top Model.
As Natasha said of Dionne and Jael, "When I look at them, I imagine two cats ready to jump on each other."
Apparently, April taught them all she knows about being a correspondent â€" except for the important stuff, like "Don't be combative."
All of the girls still think looking pretty is their ticket to win.
Communicating with others is last on their list of priorities â€" even though Jael, using her trademark punctuated speech, claimed otherwise.
"I. Think. I'm. Really. Good. At Speaking. With. Other. Human. Beings."
She sounds like freaking Napoleon Dynamite.
After a night of playing around in the pool (ooooooga), the girls were greeted the following day by a bouncing Tyra Banks - decked out in a cute kangaroo costume no less.
Fittingly (in case the whole costume thing didn't give it away), Banks told the girls that they should pack their bags... for Australia.
Natasha shrieked with excitement over the Sydney news... five minutes after Tyra Banks announced it. She didn't understand. She's Russian, remember.
With that, they were off to Australia, where the lovely Erika Heynatz, the original Australia's Next Top Model host, gave the girls their challenge:
Brittany was nervous about said challenge because in high school, she got run over by a car and had eight stitches stapled into her head and, as a result, the short-term memory part of her brain is addled.
Excuses, excuses, excuses.
This was definitely the most challenging shoot of the season: a commercial for CoverGirl. If you've ever done any voiceover work, you know how tough it is to remove every "um" and "like" from a conversation.
On top of that, they had to speak in thick Australian accents without elongating the vowels in a way that people often mistake for the Brits' brand of English.
The judges' clip later showed a different story of Renee's performance, but I thought she had the top spot in the bag. Overall, she nailed those lines, the Aussie accent and that charming kicker of a wink.
Dionne did so-so. The green eye shadow really opened up her eyes, but I thought her big gold earrings were competing with the hat hanging from her neck. Of course, that wasn't her fault, but it was distracting.
And she just didn't put enough soul into it, which also could be said for Jael and Brittany, who displayed the even-worse sin of not making an attempt. An annoyed Jael said, "I just want to, like, touch the grass and animals and breath the air."
As for Jaslene and Natasha, they did well enough to feel safe about not going home. Jaslene looked great in a getup that Jay aptly compared to Janice Dickinson on safari.
I still think Brittany is going to make it to the end, despite this poor performance. But I just do not understand why she was so distraught. "I feel like I did my best, and I'm not that upset with that, I'm just, you know... five years later, it sucks."
What sucks? If she has post-traumatic stress disorder, that's a different situation, one that she probably needs to get counseling for.
But this memory-loss thing?
Come on, she remembers how to get home every day, right? Not to mention the fact that she was reading straight from the cue cards. Don't tell Reality TV Scoop that by the time she got to the end of each sentence, she already had forgotten its first words.
The best tell-it-like-it-is comment of the show came from J. Alexander, who said, "Fashion has no sympathy or empathy."
So Jael's out. Here's the rest of the field...
Brittany
Dionne
Jaslene
Natasha
Renee
Matt Richenthal is the Editor in Chief of TV Fanatic. Follow him on Twitter and on Google+.