On Grey's Anatomy, SAG Award winner and Emmy nominee Chandra Wilson plays Dr. Miranda Bailey (aka "The Nazi"), a hardened surgeon who doesn't take crap from anyone. Although recently, her tough-as-nails exterior has been whittled down a bit thanks to the arrival of her son.
The real Chandra Wilson and the fictional Miranda Bailey share much in common - in particular, their lifestyles of juggling work and family. Chandra however, couldn't be nicer. TV with MeeVee caught up with her and her brood at the TCA Press Tour for an interview. See below...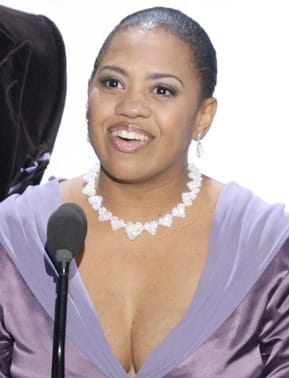 TV with MeeVee:
Both you and
Miranda Bailey
have your hands full, with a career and a family at home. What's your secret?
Chandra Wilson:
You know, making it work. Like even tonight. This is a night where I know I'm going to be gone all day tomorrow, so if I'm not going to see [my son], even if I'm in the same room, because I'm getting dressed - we've worked all week long, we've had long days, and I needed to come do this today, and I said: "Okay. You guys get to ride with me today." So, just like Dr. Bailey sometimes rolls up with the baby [laughs], you just make it work.
TV with MeeVee: One of the most common observations about Grey's Anatomy is its commitment to casting roles traditionally not held by women and/or people of color -- your role in particular. Do you think this a sign that the industry's coming around? What's your experience been like?
Chandra Wilson: It's been kind of a different journey for me, coming out of New York, as opposed to really being here in L.A., and going through the movie and studio circuit here in L.A. This role came up, and she was non-traditionally cast, so that's another place where I wasn't necessarily affected by any preferences that are out there in the world right now, or in Hollywood. Grey's is a multi-ethnic show [laughs], so that's another place. I'm kind of living in the cocoon of all circumstances that prove that there's nothing wrong. Once I step out of Grey's, that's when I can say, "Okay, wait a minute. We don't have enough men and women of color," or, "We need more men and women of color as show-runners." But while I'm in Grey's Anatomy, I'm looking at it through those eyes.
TV with MeeVee:
Up until this point, few - if any - African American females were cast as doctors on TV, let alone surgeons. Do you get a sense that this resonates with viewers?
Chandra Wilson:
Yeah. Basically, what folks have is a deep appreciation for what they're able to see on television. And I understand, from the outside looking in, how big that is. How big it is to see me playing Dr. Miranda Bailey. So, as many people that walk up to me and say, "Oh! You're that nurse on that show!" [laughs] There are enough that really get that, no, it's more than that, what [I'm] playing. And I know that that means something to somebody, to some little girl that's sitting out there that wants to be something else - that never thought about, possibly, being a surgeon. And now, the idea is there. I get that.
TV with MeeVee: Was there anyone in particular who inspired you along the way?
Chandra Wilson: I grew up in Houston, so one of my biggest performing arts role models were the Allen sisters, with Debbie Allen and Phylicia Ayers. It was all about, "Yeah, I can dance at Joffrey if I want to," you know what I mean? [laughs] Or, "I can go to ABT," or, "I need to go to New York, and I need to do Broadway," or, "I need to stay in school and graduate," "I need to learn what producing is," "I need to learn what directing is." Because that's the bar that they set for the possibilities in television and in performing arts for women of color, absolutely.
TV with MeeVee: Do you miss New York?
Chandra Wilson: Gosh. You know, I still consider that my home. I was there for almost 20 years. My stuff is still there. But, because I was from Houston, New York was just kind of the place where I went to school and where I worked. Just like L.A. is the place where I'm working right now. So, I'm not even really sure where home is. [laughs]
TV with MeeVee: It's where the children are.
Chandra Wilson: [laughs] Exactly. We just make it, wherever we are.
TV with MeeVee: Last question: What are your favorite TV shows?
Chandra Wilson: Oh, gosh. Well, it's hard for me to watch primetime, because I watch three and a half hours of soap operas every day. I watch everything on ABC, and The Young and the Restless. So, here in L.A., I have to switch back and forth for about a half hour when The Young and the Restless and All My Children cross over. It's a pain, but I make the switch during the commercials. I give myself one VHS tape to record it, I will not TiVo; otherwise I will never get through them all. It's just too easy an out. So I give myself my one VHS tape to record them each day if I'm working, and I have to get through them that night because I need that tape for the next day. So, a lot of times, I'm up 'til 2-3 in the morning keeping track of my soaps [laughs], so I can use my tape the next day.
TV with MeeVee: That's impressive! Are you master of the VCR?
Chandra Wilson: I'm doing my thing when I roll out at six o'clock in the morning. Sometimes I do PM when I'm supposed to do AM, and I miss a day, and then I have to catch up on SOAPnet that night. But, I have it set to record.
Steve Marsi is the Managing Editor of TV Fanatic. Follow him on Google+ or email him here.