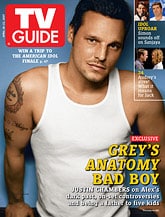 "Does this look unhealthy to you?" Justin Chambers asks.
The man who plays surgical intern Alex Karev on Grey's Anatomy is not talking about the cigarette he just stubbed out in the parking lot of a Hollywood café, a move that made him look like one of those high-school hotties who ditch math class for a smoke.
Nor is he referring to the TGIF Bloody Mary he'll soon order.
The object of Chambers' inspection and scrutiny, according to TV Guide, which interviewed the star and put him on its most recent cover, is the late lunch just delivered to the table: a run-of-the-mill Cobb salad complete with turkey, bacon and blue cheese.
"I'm no spring chicken," the 36-year-old declares without a shred of irony, patting the nonexistent gut beneath his snap-front Western shirt. "Thank god they have a gym at work."
Not that you've seen much of his torso lately.
Unlike the other doctors at Seattle Grace, Alex Karev hasn't been having steam-up-the-mirrors sex with coworkers.
Okay, so he did make out with the very hot Addison Montgombery, but then he blew her off, extinguishing fan hopes of an Addisex romance.
And yes, he has moved into Meredith Grey's house â€" in very close proximity to his ex, the equally hot Izzie Stevens â€" but catching her coming out of the shower in the communal bathroom barely gave him a rise.
While his colleagues are getting lucky and taking big risks with their personal and professional lives, the normally brusque
Alex Karev
is no longer playing his cards quite so close to his chest.
And now, during the show's third season, the previously unsung Chambers is quietly emerging as the most intriguing actor on TV's most addictive drama.
"I think Alex has such a strange defense mechanism. He has to shield himself with cockiness and quick one-liners," Justin Chambers said.
"Alex has been kept more of a mystery. He is still on the outside of the interns."
Chambers is psyched about his character's walk on the soulful side. In a story line that's been building over the last five episodes, Alex has been caring for Jane Doe (Elizabeth Reaser), the pregnant amnesia victim he rescued from the Seattle ferry disaster in "Walk On Water."
"He's taken her under his wing," Chambers says, "and he's learning a lot about himself. He's saying things and doing things for her that he hasn't shown to people he's worked with."
Reaser has been a fan of Chambers' work for years.
"I always remember that sweet character he played in The Wedding Planner," she says of the Jennifer Lopez romantic comedy in which the actor played a goofy, love-struck Italian.
"I really thought he was Italian! I'm always shocked when anyone that good-looking can be that talented. It doesn't seem fair."
Like the rest of the Grey's Anatomy cast, Elizabeth Reaser seems to suffer from a serious case of PDA (plot developments amnesia).
"I can only imagine the sort of intimacy that's created when someone saves your life," she says of a possible romance between their two characters. "I don't know where that's going to go."
Neither does Chambers.
In fact, he says, the only thing he knows for sure is that Jane Doe's unborn child is out of danger.
"As of now," he adds, "the Doppler says it's OK."
The Doppler?
"Sonogram!" says the actor and father of five, who still struggles with the show's medical terminology.
Steve Marsi is the Managing Editor of TV Fanatic. Follow him on Google+ or email him here.