Here's what People magazine gathered from behind the scenes of last night's Dancing with the Stars ...
Family Night: It was an emotional night for Laila Ali, who danced the waltz in front of her father, boxing great Muhammad Ali. But the evening was equally as tender for her partner, Maksim Chmerkovskiy, whose family, in town from New Jersey, also witnessed the show.
"I had a tear, but I didn't let it out," says Chmerkovskiy. "My mom and dad were here, my best friends, my brother is here. When they showed the video package about Laila and her dad, it was very much about family, and, for me, the most important thing in my life is my family, so kind of by association it brought tears to my eyes." Of the dance, Laila tells People, "It was wonderful. We didn't get 10s, but that's fine."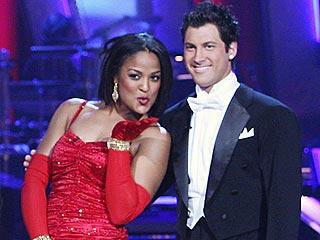 Fighting Words
: When judge Bruno Tonioli called
Billy Ray Cyrus
's dancing "crap," the audience and fellow Dancing contestants gasped in disbelief. Many are suggesting he apologize.
"[Judges] need to use more encouraging comments than discouraging comments," said professional dancer Tony Dovolani. "That's proper ballroom etiquette. I don't think that's proper TV etiquette. Obviously, Bruno does not know our audience. He does not realize that a lot of kids watch the show, and he needs to watch his language. Everybody should be offended by that."
Cheryl Burke was also baffled by Tonioli's comments. "How can you go back and work on 'crap'?" she asked. "It's not nice. You need creative criticism."
Scorekeeper: During the commercial break following the tango by Apolo Ohno and Julianne Hough, Carrie Ann Inaba held court at the judges' table with seven producers. Inaba had given Ohno and Hough a 10 (she even held up the number 10 paddle), but the computerized scoring system only registered a nine, which was the score that was relayed to host Samantha Harris.
Things got heated as Inaba, visibly frustrated, insisted, "I did punch in 10!" Executive producer Conrad Greene calmed Inaba and, immediately following the break, host Tom Bergeron informed the audience that Inaba did indeed give Ohno and Hough a 10.
Buddy, Buddy: As the weeks have gone on, the line between competitors has blurred. Slightly. "I love to hate this couple," Ian Ziering says of Joey Fatone and Kym Johnson. "Honestly, we feel the same way about him," Fatone says back. "They are so good it's nauseating," Ziering continues. "I've tried food poisoning on them, I've tried breaking his kneecaps. He's a resilient guy."
But Fatone does have limits, he says. "[Ian] allmost broke my back when he jumped on it and squeezed with his legs. He is really strong." But it's all in good fun. "They are tremendous athletes and great dancers and it's great being in their company," Ziering gushed.
One-Two Punch: A fan in the audience who called herself "Mama Gibbs" was upset that Len Goodman harshly criticized Apolo Ohno and Julianne Hough's tango (even if Goodman did give them a 9). She held up her fists at Goodman, who waved her down to say hello. The rowdy fan whispered in his ear and then, on cue, pretended to sock him in the jaw with a left jab and a right uppercut. Goodman jerked back his head in mock pain. Then the two embraced and laughed as the audience cheered.
'N the Moment: Chris Kirkpatrick sat front and center and watched his former 'N Sync partner Joey Fatone perform. "I heard from my family about it and they said, 'Can't you make it out there to see him?' So I came," Kirkpatrick says, noting that he's not surprised that Fatone is connecting with fans. "He's a character. It's funny to see him with the outfits he wears. When we were on tour we could always rely on Joey to have the funniest outfits of all time. There was never a dull moment with Joey."
Speaking of clothing, Kirkpatrick and several friends in Fatone's fan section wore homemade airbrushed t-shirts emblazoned with Fatone's face (a photo of him sticking out his tongue) and the words "Vote For Joey."
Matt Richenthal is the Editor in Chief of TV Fanatic. Follow him on Twitter and on Google+.