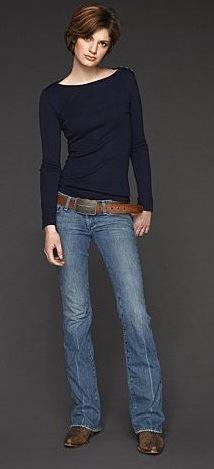 The five remaining runway wannabes competing on the 8th season of
America's Next Top Model
continued to learn aspects of the modeling industry beyond the catwalk during Wednesday night's broadcast of The CW reality TV show.
In the end, Brittany Hatch, a 21-year-old bartender from Savannah, Ga., got bounced as she realized a pretty face and fabulous frames does not a model make.
"I'm going to miss the whole experience. I mean, I'm just happy that I got it," said Brittany.
"There's a lot of girls out there that wish they could have this experience and it's a great opportunity and it's been a lot of fun."
Top Model 8's newest episode found the five girls in Sydney, Australia as they returned to their apartment following the elimination of Jael Strauss, a 22-year-old band manager from Detroit, Mich., at the last judging panel.
Renee Alway, 20, a stay-at-home-mom from Maui, thought it'd be "so strange" without Jael and said she thought it was unfair that Jael Strauss was eliminated instead of Brittany, who were both the previous panel's bottom two.
"Brittany used her short-term memory as a crutch in panel," said Renee. "I feel like it was unfair that Jael goes home." While Brittany agreed "it sucks" Jael went home, she also boasted how she knew she was safe because she seemed to "be doing a lot better at the photo shoots" then Jael.
"I really wanted Brittany to go home because when we did that skit with [Tia Mowry], Brittany was all excited about acting. She knew every line word for word," said Dionne Walters, a 20-year-old college student from Montgomery, Ala., remembering how Brittany's supposed lack of short-term memory wasn't a hindrance during a previous challenge.
"But when it came to [last episode's commercial shoot]... short-term memory!? You are lying! She always makes-up an excuse for every single thing."
The girls then received some Tyra Mail and traveled to Priscilla's Model Management, where they were met by its director Priscilla Leighton Clark and Australia's Next Top Model 3 host Jodhi Meares.
Priscilla informed them that today was "Go-See" day, as the girls would be embarking to meet different designers who represent different areas of fashion, because as Jodhi explained, it's "important to be a chameleon." The designers would be judging the girls on their personality, portfolio and runway walk.
The girls had to be back at Priscilla's by 4:30, giving them three-and-a-half hours to meet the designers and return or they'd be disqualified.
With roughly 15 minutes left, Renee and Dionne left to assure they wouldn't be late, while Brittany tried to squeeze in one more designer and got lost on the way. As Brittany left the designer, her cab wasn't out front, so now she had to find her cab and get back to Priscilla's in nine minutes.
"My cab driver obviously didn't come over here like I asked him too! He obviously didn't listen," said an aggravated Brittany.
Once she found the cab, she scolded the driver for not listening to her. Unfortunately for Brittany, she never actually told her cab driver to meet her, a fact that was not lost on him.
"You didn't say to meet you," correctly stated the driver.
With Natasha and Brittany scrambling to make it back, Jaslene did just that with a minute to spare.
"I'm like, 'Where's Natasha? Where's Brittany?' We have two slackers," said Jaslene. "These girls are late, late for something that's very important."
Natasha arrived no more than two minutes late, and when Priscilla told her she was disqualified, she seemed to take it as best as possible as she went to wait outside.
"I know that if I wouldn't be disqualified, I would win the challenge because I definitely would book more jobs than any of those girls," said Natasha.
As Priscilla commended Jaslene, Renee and Dionne for their timeliness, Brittany finally arrived and was not to happy when Natasha told her they were both eliminated.
"I asked my f**king cab driver to meet me on Cooper Street and he didn't f**king show up!" yelled Brittany. "It's not okay! It sucks because it's not my f**king fault! It's his!"
Natasha tried to calm Brittany down to no avail, as she continued yelling... loud enough to disrupt Priscilla.
"When Priscilla comes in to announce who won the challenge, Brittany is cursing and just going off. You could actually see the expression on Priscilla's face," noticed Dionne.
"I assume that Brittany knows she's disqualified because she hasn't come into the room," said Priscilla, before revealing the designers' comments.
They thought Renee had a "great personality" but "photographed too hard at times;" Dionne's "personality appealed to the designers" but she "needs to work on her posture;" and Jaslene has a "great body," they "loved her walk," and overall, she got the best feedback, meaning she won the challenge.
As the winner, Jaslene had the opportunity to beef-up her portfolio by being in a photo shoot atop Australia's famous Sydney Harbour Bridge. She chose Dionne to accompany her. Natasha hugged Jaslene and celebrated the victory while Brittany continued to bitch.
"Brittany, why you put up these excuses and make yourself look bad?" wondered Jaslene. "She just has some excuse all the time."
Atop the bridge 440-feet high, Dionne and Jaslene were photographed by Top Model judge Nigel Barker.
"We had a great time up there on that bridge and I think Nigel had a lot of fun with us," said Dionne. Added Jaslene, "It was a plus, plus, plus for us." Back at the apartment, the girls received some Tyra Mail describing the nature of their next shoot.
The next morning at 5:30AM, they arrived at a Sydney beach and were met by Jay Manuel, Top Model's creative director of photo shoots.
He told them they would be doing two different shoots - one that would appear in a women's magazine and one that would appear in a men's magazine - wearing a bathing suit and posing with a male model for both.
Top Model creator and judge Tyra Banks would be taking the female magazine photos, while Michael Omm took the male ones.
"I'm very excited to see Tyra," said Renee. "I'm excited to have her on set and see how we work."
Tyra explained she wanted "soft and beautiful and fashion." Brittany went first, and Tyra thought she seemed "nervous" and was "holding back," but there's "still something from inside her eyes that's spellbinding."
Tyra Banks said Dionne had to "constantly be directed," and noticed her "concentration is off."
At first Tyra was "slightly disappointed" by Jaslene, who then turned it on halfway through the shoot and finished strong. Tyra said Renee "just has a natural thing" and thought she understood the shoot. Tyra said Natasha will have "some nice shots," but also had to be constantly reminded to relax her neck.
The shoot got a little more sexy as Omm stepped in and Manuel started to dish out the criticism.
Manuel thought Jaslene was "ready," and it showed in her frames. On the contrary, he thought Dionne looked "mean" instead of sexy.
Renee said she likes being sexy because she knows she's good at it, and Manuel thought she "committed to the shot" and "looked gorgeous." Manuel said he's never seen Brittany that sexual in a picture before.
"Now this next one, she might give us porn star in a second so we got to watch it," Jay Manuel warned Omm as it was Natasha's turn. While some of her poses were "awkward," Manuel said Natasha understood the nature of the shoot.
The girls learned they'd meet with the judges the next day.
Jaslene wanted Renee to go home because she's "hungry for the money" and "looks old." Dionne had "no idea" who was going home.
Brittany thought the photo shoot was her "opportunity to kind of like get back into good graces... I don't think I'm going to be in the bottom two again because I think I did a damn good job," she said.
Judges for the panel included Tyra, Nigel, Priscilla, runway expert J. Alexander, and former model Twiggy.
As Brittany said "she made a big mistake" at the challenge, Priscilla recommend she "learn to contain herself because people don't like the tantrums."
Tyra then revealed a surprise: not one of the designers Brittany visited wanted to book her. Twiggy said she was "absolutely shocked."
"I think you're a very good example of it's not just about being pretty and having pretty pictures," explained Tyra, "but there might have been an energy or personality thing that didn't click with the designers."
The panel loved Brittany's frames. "The camera loves you," said Twiggy. "That's why you've got to find this personality when you do your meetings."
Unlike her comments to Brittany, Priscilla thought Natasha handled her disqualification "well."
Looking at her frames, Twiggy commented Natasha seems to be "excelling." Priscilla said Natasha seemed "confident," and Nigel said she has a "Calvin Klein-esuqe model look."
Tyra said she enjoyed shooting Natasha. Jaslene got good feedback on her eye contact for her men's magazine shoot and was generally well-liked overall. J. Alexander wasn't totally impressed with Dionne, and Tyra cautioned her about her "mean face."
When Alexander asked for three poses on the spot from Dionne, they were all mean. Tyra suggested Dionne needs to relax and listen to the photographer. Twiggy also liked Renee's eye contact in her men's magazine shoot, and she also got credit for her "booty tooch."
During the judge's deliberation, it quickly became apparent Dionne and Brittany were in trouble. Alexander said it was "the first time ever in the history of Top Model" that none of the designers wanted to book a girl.
Tyra said the designers didn't much like Brittany's look or personality, and was confused. Twiggy thought Dionne's photographs were the "weakest" this week, and Tyra noticed she's "going backwards" with her look.
Jaslene, Natasha and Renee all made Top Model 8's Top 4, with the final spot between Brittany and Dionne.
"Brittany, you've taken some of the most beautiful photographs. But this week you went on Go-Sees, and not one of those clients said they would book you. All the pretty pictures in the world... it's great. But if you can't get hired, you don't exist in the modeling industry," said Tyra.
"Dionne you're pictures have been nice, by far not as strong as Brittany's. And this week I've come to understand why. You have to be coached so, so, so much, as if this was Week 1 of America's Next Top Model."
In the end, Brittany was sent back to the States.
"When I get told that I didn't get booked for any of my Go-Sees, it makes me just sort of realize that I have a lot to work on," said Brittany.
"I've never been like the emotional person, and I don't know what made it come out here. But it shocked me and then I didn't know how to handle it."
Matt Richenthal is the Editor in Chief of TV Fanatic. Follow him on Twitter and on Google+.