Yes, Andy Baldwin proposed to Tessa Horst like, over a week ago. And a lot longer than that in real life. But we're not done covering this love story just yet.
Here's the Sports Gal's long-awaited take on the passionate love shared by Andy and Tessa, the crushing defeat of Bevin Powers and the rest of the drama that marked The Bachelor: Officer and a Gentleman season finale.
~~~~~~~~~~~~~~~~~~~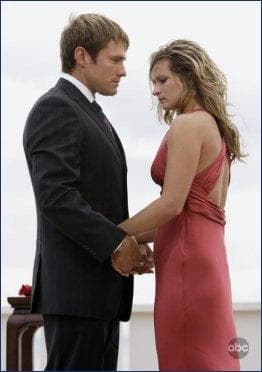 I wasn't there when Bill watched the Celtics lose the lottery, but he couldn't have been more crushed than Bevin after she got dumped on the final episode of
The Bachelor
.
I'd describe what happened, but I was too busy covering my face with my hands. It was a big blow to the confidence of tattoed divorcées everywhere.
They may never trust the intentions of an uptight, dorky Naval doctor again.
Earlier in the show, Bevin exchanged I love yous with Andy and told the camera:
"There's no chance in hell that he'll leave me without a rose in the last ceremony."
By the end, they were whisking her sobbing ass away in a limo as she whined, "This s--t happens to me all the time … this is the story of my life."
Since I had my hands covering my face, here's how Bill described it: "This was a complete decimation. It would have been easier if she was walking toward Andy and he just pulled out a gun and shot her in the head."
We knew Bevin Powers was cooked when she visited Andy's family's house in Amish country (Lancaster, Pa.). Andy's family is right out of the '50s with two parents, a grandmother and two old grandfathers, one of whom reminded me of Jane Fonda's father in "On Golden Pond," the guy who screams (about a fish), "I call him Walter because he reminds me of Ethel's brother … fat, lazy and ugly!"
These families only still exist in the Midwest, Amish country and parts of upstate New York - you know, the families that still buy whole milk, use metal detectors on man-made beaches and eat fatty bacon.
Andy described the gravity of the home date by telling us, "There's so much at stake here ... I mean, this is about marriage, it's about proposals, it's about uprooting your life, it's about love."
Thanks, Andy.
Bevin arrived on the heels of classy and sophisticated Tessa, who quickly won his family over on her visit, although it's hard to tell whether they liked her or they were just happy Andy Baldwin brought a woman back to meet them (this hadn't happened in eight years, they said).
Things were going okay with Bevin - she didn't bring up the divorce, she covered her tattoos - until they asked her about her job and she explained that she was a clinical therapist who was working on a project about the sexual dysfunction of menopausal women.
Bill said that this was one of his favorite porn sites.
Then they asked if she was religious and she said, "My family raised me in the Bahá'í faith" while the Baldwins looked confused and scared. Even I haven't heard of that one and I live in L.A. So long, Bevin!
Bevin gained back just enough momentum at dinner that she left the house saying, "Next time I see them, I hope to have a ring on my finger," and, "I think Bevin Nicole Baldwin sounds really good."
So does "Insane Asylum Patient No. 465."
ABC made us think that she had hope by editing Andy's "What did you think?" conversation with his family by including positive comments from his mom ("I could see that she's crazy about you") and excluding the part when he told them about her divorce and tattoos and everyone told him, "Are you crazy??? Go with the other one!"
(I have to mention Andy's dad, who gave his son the advice, "I don't think you can make a wrong decision at this point … I mean, either one is gonna be a fine decision for you" and sounded like he was helping him decide between a bowl of chili or a grilled cheese.
He also told Tessa a story about how he met Andy's mom in college because their roommates set them up on a date at the library. The library! Now it all makes sense, ladies and gents! Their love was consummated over some resource books and then little Andy came along.
From there, the girls returned to Hawaii for their final dates with Andy. Bevin wrote him a sappy card and gave him a watch because "every moment I spend with him, time stands still." She kept telling him that she loved him and Andy said "I love you too, Bev."
When he added "Bev," I knew it wasn't genuine. I haven't heard him call her "Bev" this whole season. I wonder if Bevin was thinking about this in the limo on the way to the final rose ceremony. (I also wish we'd been in the room when he explained this L-bomb dropping to Tessa. Where were the cameras on that one?) Andy seemed happy with the date and told the cameras, "Sometimes the greatest things in life involve risk."
That's when Bill decided that all of Andy's prose came from fortune cookies. The next night, Tessa finally opened up to him, read him a stiff love letter and made him a collage of pictures and cut-out words (like you'd have in college), then she explained how much she liked him, only in a whispering voice, like she was confessing a secret to him. I found this very strange.
Then they exchanged L-bombs and Andy seemed head over heels for her. He even screamed, "I freaking love you!!!!!!!!!" Not quite the response Bevin received.
Again, buh-bye Bevin Powers. Buh-bye.
Can you love two people at the same time? If you're Lt. Andy Baldwin, yes! Eventually, he worked it out in his head, dumped Bevin and proposed to Tessa Horst (who shockingly said yes).
I give them 10 weeks.
Why? Because she probably watched the show and knows Andy had too much of a connection with Bevin. He even said so.
If this were Bill, I'd make him take 100 scalding showers and an STD test every two weeks for the next six months to be safe, and even after that, I'd still dump him because there's no way I'd ever forget how he kept talking about his "electric connection" with a divorcée who has back tats.
Of course, I'd never be on this show - not even if Bill and I broke up and I found the Bahá'í faith. I did think it was interesting that, out of the final four girls, the last three voted off said things along the lines of "Why does this stuff always happen to me?"
Those are the girls who apply to ABC to find a husband on The Bachelor. Can a successful man find true love on this show? Not likely. But you can probably find an STD.
PS: I held off on the final update to include notes from the "After The Final Rose" show, which turned out to be extremely boring.
Bevin Powers was surprisingly reserved, although there's a good chance she was heavily drugged by a team of doctors. Andy and Tessa still seem happy and I still give them 10 weeks.
Matt Richenthal is the Editor in Chief of TV Fanatic. Follow him on Twitter and on Google+.