Sadly, the Scoop staff does not have any pictures of the pink engagement ring Spencer Pratt gave Heidi Montag Tuesday.
Although we're guessing it's only a matter of time, knowing Spencer Pratt and how that weasel loves the media.
However, we're pleased to bring you the next best thing: A picture of the diamond ring presented this week by another reality TV star, Lt. Andy Baldwin, to his lovely bride-to-be, Tessa Horst.


Check out this bling!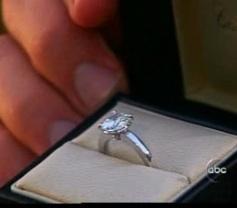 In an unsurprising move, Andy Baldwin chose Tessa Horst over Bevin Powers in the season finale of The Bachelor: Officer and a Gentleman Monday night.
They haven't set a date yet, but are thrilled that the show is over so they no longer have to live in secret. We're happy for Andy and Tessa, who seem ready to enjoy a happy life together.
Matt Richenthal is the Editor in Chief of TV Fanatic. Follow him on Twitter and on Google+.