When Rick Forrester returned from overseas, fans got a slightly different character than the one they may have remembered.
That's because Kyle Lowder brought him back from Europe with a new musical talent. CBS.com caught up with Lowder to find out more about his own musical background and how he landed the role...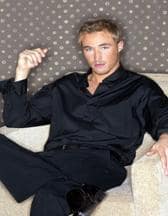 CBS.com: How has it been on the show so far?
KYLE LOWDER: It's been great. I had such an amazing experience on
Days of Our Lives
at NBC. It's one of the things that I really missed about my life, was the grind of daytime. It kept me busy. I'm someone who loves to stay busy. It was funny, the first couple of episodes I did here it's like riding a bike, you know, it gets a little shaky.
CBS.com: Were you looking to get back into the Daytime genre?
KYLE LOWDER: I was actually. I loved Days and again I had the best time there, but for a lot of reasons I just needed some time for myself. I didn't really get a chance to work on music that much and that's where I came from and what really drives me. It was no one's fault. It was just the grind and the work schedule was so busy I couldn't do it. So, I really wanted to take some time, as much time as I needed to start writing music again, get together with my song writing partners and record music again.
Even if it wasn't a career, I just needed to do that. But quite honestly, after a year of that, and it was wonderful, I feel like I got the music part of my career up and running a little bit. But then it was time I needed some stimulation. Because once you've done this grind it's hard to do anything else because it keeps you busy and it's such a great time. You form such a great bond with the cast, the whole crew, production staff. We just put out some feelers right after Thanksgiving. My representation just put up some flares and said Kyle's interested in returning to Daytime and it was just amazing that at time The Bold and the Beautiful was casting this role.
CBS.com: Fate stepped in.
KYLE LOWDER: Exactly. I had a wonderful meeting with Brad [Bell, Executive Producer and Head Writer] and I just fell in love with the guy. He's so cool and the story that he's telling right now that he was telling me about was so intriguing and I was like, "What do you need me to do?" Long story short, it worked out.
CBS.com: So you weren't worried about coming in as an already established character?
KYLE LOWDER: No hesitations but it was definitely was, and is still on my mind. I mean, especially with the popularity of the character. Jacob Young, Justin Torkildsen. Justin won an Emmy for the role. I wanted to remain as respectful to the history of the character as I could and of course put myself in the role but also try to keep it consistent and have a seamless transition between actors. Justin was just on the show recently and I didn't want people to be like, "Who is this guy?" You know what I mean?
Yeah I'm different but I'll do my best to keep the transition seamless. Intimidated, no - hesitant, no, but it is still on my mind. It's going to take a while before people accept me as this character and I can even accept myself as the character. Until then it's on my mind. I've told everyone here, I'm an open book, let me know what you need me to do. If this is not Rick, tell me. And also, Brad has been very forthright about, "Kyle, do your thing. We hired you because we want you to do your thing." So there's a mutual respect there.
CBS.com: So you are definitely aware of fan response when coming onto a show.
KYLE LOWDER: Very much so. The fans are what keep these shows driving. They're on during the day; it's an effort to watch them in this day and age with everybody working. Fans are what drive these shows, all of Daytime in general. You got to keep them happy. Playing a character that's front and center it's important to keep the fans happy. And that's just what I'm going to be aware what they're thinking, I'm going to do my thing but if there's anything that can be done better or differently I'm open.
CBS.com: On a day like today, when the show is celebrating 5000 episodes, does it put things into perspective as to the success of Daytime when Primetime shows never reach those types of milestones?
KYLE LOWDER: I know. I feel so privileged to be a part of this show. These people who have been here since day one, I watched when they invited all the original cast and crew [up to the podium]. Brad said the face of TV has changed so much and it's because of the fans who stuck around for 20 years. It's so great to be a part of that and I just hope that I can jump on the train that's already moving. Don't stop it for me. I'll jump on and make it work.
CBS.com: You mentioned you started in music. What was the thing that lead you to take the acting road instead?
KYLE LOWDER: Quite frankly I got the job on Days. I needed work. I moved from New York to L.A. I was fortunate enough that Days of Our Lives was one of my first auditions out here. I booked the role and couldn't turn it down. It was great. I don't take a day of it for granted.
CBS.com: It happened relatively quickly for you then.
KYLE LOWDER: Yea. I moved to L.A. I started modeling to make money. Hopefully those pictures are gone [by now] - damn the internet! [Laughs] It's not the old days where if you lose the catalog it's gone. Actually my first audition was for Days and I didn't even get it from an agent. I got a call from a casting director and it was one of those things where when I got the job it was like a train - you jump on it and you go. They just run a different ship over there. It's an hour long show and very popular and did a lot of traveling for them. I just couldn't find the time to do both [acting and music]. Brad is so nurturing of his actors. You look at Ronn Moss (Ridge) and Jack Wagner (Nick). They have successful music careers and this is just such a perfect fit.
CBS.com: Did it play a part in your decision to do the show that B&B showcases its musical talent?
KYLE LOWDER: Oh God yes. The fact that people are nurtured here, their creativity is nurtured. You want to record an album, as long as B&B is your first priority, do whatever it is that keeps your artistic juices flowing. Thank God that this was available, because I get the best of both worlds. I'm on an amazing show and I get to keep doing what I'm doing musically.
CBS.com: Was singing on the show an idea that you brought up to Brad?
KYLE LOWDER: No. The actual technical casting breakdown that went out said, "Singing a plus." Divine intervention is an amazing thing. It just goes to show that whatever is in your consciousness, put it out in the world because it's amazing what can happen from that. The first meeting I had with him was unbelievable. I've been very blessed and again, I don't take one day of it for granted. I'm just here to do the best that I can.
Matt Richenthal is the Editor in Chief of TV Fanatic. Follow him on Twitter and on Google+.