TV Guide recently counted down the top 10 most beautiful women on daytime television.
While you may disagree with the list, it's interesting to peruse. Take a look:
10. Kelly Monaco (Sam, General Hospital)
She waltzed into viewers' hearts by winning Dancing With the Stars, but Monaco was already a winner to soap fans. She portrayed some of the most complex soap heroines of our time on Port Charles and General Hospital. Monaco's curvaceous body and mesmerizing talent elicits a fan following wherever she struts her stuff.
9. Amelia Heinle (Victoria, The Young and the Restless)
It's no wonder Heinle's sexy co-star Thad Luckinbill (JT) fell in love with the earthy beauty — her luminous colouring, luscious lips and dreamy eyes make her Genoa City's most seductive force.
8. Tracey Ross (Eve, Passions)
This classic beauty is not only Passions' most talented actress, but she's the sexiest woman on the show. Exuding sex appeal, Ross can beguile viewers simply with a bat of an eyelash, and that sinful smile.
7. Bree Williamson (Jessica, One Life to Live)

When this Toronto native took over the role of Jessica from teen star Erin Torpey, she successfully turned Jessica from a child into a woman who takes every man's breath away.
6. Crystal Chappell (Olivia, Guiding Light)
In a sea of stick-thin women, this Emmy winner (shown here with her hubby) refuses to lose her sexy curves. Why should she? Chappell is one of the most beautiful women to grace daytime. Look at those eyes, flawless skin and intoxicating bone structure.
5. Laura Wright (Carly, General Hospital)
As a teenage soap star, Wright was an awkward beauty. But as she became a woman, wife, mother and respected actress, this former Guiding Light and Loving star evolved into the sensational looker she is today.
4. Deidre Hall (Marlena, Days of Our Lives)
She's daytime classiest broad — and one of its most underrated actresses. Whether she's playing a serial killer or the devil, or sizzling in between the bed sheets on-screen with sexy Drake Hogestyn (John), Deidre Hall puts the opera in soap.
3. Katherine Kelly Lang (Brooke, The Bold and the Beautiful)
Twenty years after creating one of the most memorable anti-heroines in daytime, Lang has aged gracefully while maintaining her youthful spirit and glow.
2. Maura West (Carly, As the World Turns)
The 2007 Emmy winner returned from maternity leave this spring looking fresher, slimmer and sexier than ever! Pregnancy, she proves, may just be the best makeover strategy yet.
1. Susan Lucci (Erica, All My Children)
The Emmy winner proves looks only improve with age. Can you believe the Italian stunner is 60 years old?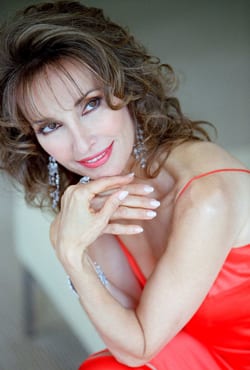 Matt Richenthal is the Editor in Chief of TV Fanatic. Follow him on Twitter and on Google+.