Thanks to TV Guide for giving us the first detailed look at the cast of Survivor: China. Jeff Probst includes his thoughts on each player...
Here is the ZHAN HU Tribe:
1. PEIH-GEE LAW
29, Marina Del Rey, California; music-video dancer turned jeweler
Jeff's take: "Historically, Peih-Gee's qualities don't bode well. She's quick with an opinion and she's got a lot of them. But Peih-Gee is a player â€" she's smart and knows how to work with people even though she may have no idea what they're saying behind her back. She understands you can be bossy and make it work."
2. DAVE CRUSER
37, Simi Valley, California; model/actor turned bartender
Jeff's take: "Dave is crazy. To his credit, he's a workaholic but sometimes to a fault. He fully embraces The Art of War from a strategic point of view â€" like, how to work with his tribe. Dave jumps out in the first few days and he's a delight to watch in his zaniness. You'll remember Dave for sure."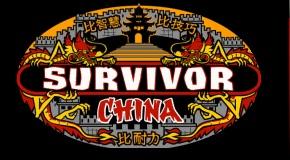 3. ERIK HUFFMAN
26, Nashville, Tennessee; musician, model
Jeff's take: "Erik is a throwback to old-school politeness. When we cast him, [Survivor: Africa winner] Ethan went through our heads. He's humble, quiet and a nice guy. There was something refreshing about him being exactly what he said he would be."
4. ASHLEY MASSARO
28, East Northport, New York; WWE SmackDown Diva, beauty queen, reality-show host
Jeff's take: "Ashley is definitely fit. She told me in casting, 'On a daily basis I get thrown from 15 feet in the air and land on my back. I think I can push some coconuts around. Put me on the show.' She's strong and she's mouthy and she spends a lot of time running around in very little clothing."
5. MICHAEL "FROSTI" ZERNOW
20, Chicago; film student, parkour expert
Jeff's take: "He's a good kid who brings something new. Parkour is a mix of gymnastics and martial arts. When we saw his tape, we thought he could just fly over some of our obstacle walls. We've never had somebody that had his kind of physical gift â€" he'll do a backflip when he's bored. And he's a sharp kid, too. He gets it."
6. SHEREA LLOYD
26, Atlanta; fourth-grade teacher
Jeff's take: "Sherea is a fish out of water here, but she's a fighter. She is another person who will tell you what she's thinking. Sherea and a few others made me see the beauty and power of announcing who you are and being that person, because that makes you identifiable."
7. JAIMIE DUGAN
22, Columbia, South Carolina; college student
Jeff's take: "Jaimie is a sorority girl and she's proud of it. The flip side is that's she's very bright. She speaks her mind and she actually makes some sense. She's very flirty, and she's good at it. I knew early on she was kind of the tribe mediator. She can hold her own â€" she's definitely not wimpy."
8. STEVE "CHICKEN" MORRIS
48, Marion, Virginia; former bouncer/fish breeder/logger turned chicken-farmer
Jeff's take: "They don't make a lot of guys like Chicken anymore. He's an old-school, hardworking guy who knows what it is to build a shelter, get firewood, build a fire, try to catch fish â€" and then have lunch. If you put him around people who aren't his age and don't have his work ethic, he doesn't understand. He's going to have to adapt and it's not an easy task."
And now for the FEI LONG Tribe:
1. AARON REISBERGER
32, Venice, California; surfing instructor, bartender, restaurant manager
Jeff's take: "Aaron is a threat. He's a charming, good-looking guy, and he's got a side to him that's cold like steel. He's a bartender and he told us that he sizes up people fast to get a bigger tip. He'd tell you one thing and there was always something else going on. He's the guy who could be playing everybody."
2. COURTNEY YATES
26, New York City; waitress
Jeff's take: "Courtney's not the kind of girl who wakes up and says, 'Should we go catch fish?' She'll say, 'I need a cup of coffee and a cigarette!' She admits she can be a bitch with a negative attitude. At first, she is off-putting. But there's something oddly appealing because she's being real. She's tiny, but she can take care of herself with her mouth alone."
3. AMANDA KIMMEL
23, Kalispell, Montana; hiking tour guide, beauty pageant winner
Jeff's take: "Amanda probably is the most physically fit woman this season, very strong and confident. She's been outdoors a lot and she's not afraid of sticks or stones. Plus, she really knows the show â€" she's watched every episode â€" and after 15 seasons, that's an advantage."
4. JEAN-ROBERT BELLANDE
36; Las Vegas; professional poker player
Jeff's take: "He's a big guy with a big, big personality, exactly what you want a poker player on Survivor to be. Jean-Robert will tell you what he's going to do and you don't know if he'll do it or not, because he's a card player."
5. LESLIE NEASE
38, Tega Cay, South Carolina; Christian-radio host, fitness instructor
Jeff's take: "Being a Christian-radio host can hurt you if your religious beliefs come ahead of making decisions in this game â€" say, you can't lie to somebody because of your faith. On the other hand, people might trust you and you could pull the wool over their eyes."
6. DENISE MARTIN
40, Douglas, Massachusetts; school lunch lady, black belt in karate
Jeff's take: "Denise is a likable, blue-collar woman with the most lovely mullet. She has it, she tells us, because it fits her life. There's nothing pretentious about her. She's very honest and endearing and a hard worker. I just adore Denise."
7. TODD HERZOG
22, Pleasant Grove, Utah; flight attendant
Jeff's take: "Todd is a Survivor superfan who's wanted to be on since he was 14. Next to Courtney, he's probably the smallest person here. He's what you look for â€" a great personality who knows how to play this game."
8. JAMES CLEMENT
30, Lafayette, Louisiana; burial service owner, grave digger
Jeff's take: "He is without question the biggest guy we've had on this show. He's actually a gentle giant, a very decent guy who works extremely hard. But if you rile him up, he'll let you know what he's thinking."
Matt Richenthal is the Editor in Chief of TV Fanatic. Follow him on Twitter and on Google+.