The doctors will be in the house when Private Practice - the Grey's Anatomy spin-off - premieres on Wednesday, September 26, at 9 p.m. on ABC, and ET's Mark Steines was the first to go behind the scenes of this not new show.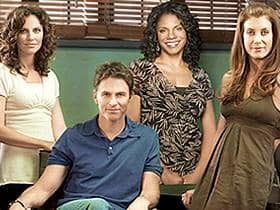 Of course, everyone is familiar with Kate Walsh's Dr. Addison Montgomery, who is moving from Seattle Grace Hospital to Los Angeles and introducing viewers to a stellar cast of co-stars along the way.
Joining Kate Walsh on the new ABC comedy / drama will be a terrific ensemble featuring Taye Diggs, Tim Daly, Audra McDonald, Amy Brenneman, KaDee Strickland, Paul Adelstein and Chris Lowell.
Kate Walsh, of course, is currently engaged ina juggling act with the new series and her personal life, as her wedding to fiancé Alex Young is happening this coming weekend in a posh Southern California location.
As we discussed earlier today, Kate's had at least one Bridezilla meltdown.
While Kate sure is covered in the romance department (regardless of isolated Bridezilla episodes), what about her TV persona? Grey's Anatomy is quite the steamy show - and Addison shared a passionate kiss with Tim Daly's character in the pilot for Private Practice.
"There's been no actual [bed] hopping so to speak," Tim Daly reveals. "I think something's inevitable, something's going to happen. These are adult people that are clearly attracted to each other, so there's nothing really impeding them from hooking up, as the kids say."
So will there be an equal amount of bed hopping when Private Practice officially shows up on the fall schedule on Wednesday, September 26?
"I don't think there's any shortage of heat," Walsh said. "I think people will be quite toasty when they watch the show!"
Steve Marsi is the Managing Editor of TV Fanatic. Follow him on Google+ or email him here.