Edward Scott has joined Days of Our Lives as Co-Executive Producer, while Marnie Saitta serves as the show's new Casting Director (both pictured below).
"I am very enthusiastic about the important changes for Days of our Lives that Edward Scott will bring as Co-Executive Producer," said Ken Corday, Executive Producer, Corday Productions, Inc. "Ed comes with more than twenty years experience with The Young and the Restless and brings a new, vibrant, creative energy and strength to this all-important position of leadership."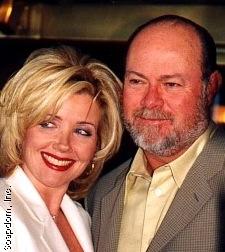 Over at Soapdom.com, Linda Marshall-Smith says everything from
music supervision
to lighting to approving or denying an actor's request to change a line will be in Scott's hands. And she should know. She once spent an entire week in the booth with Ed Scott on
Young and the Restless
, reading lines with
Eric Braeden
(Victor) as a result.
"Days will benefit greatly from Ed's direction," continued Corday. "The viewers will also be thrilled with the exciting changes in the days to come. I would like to thank former Co-Executive Producer Steve Wyman, Supervising Producer Roy Steinberg and Casting Director Fran Bascom for their service and friendship over the years. I wish them all the best in their future endeavors."
Scott and Saitta come to Corday Productions having most recently served on the aforementioned long-running CBS daytime drama. Scott had an extensive tenure on the show, most recently as Supervising Producer. He is credited for fifteen Daytime Emmy Award nominations for "Outstanding Drama Series," among them five wins.
Not only is Days of Our Lives excited about Scott and Saitta's arrival, the network is also looking forward to the duo coming on board.
"We are thrilled to have Ed and Marnie join the Days of our Lives team," said Annamarie Kostura, Vice President, NBC Daytime. "Their vast experience in the world of daytime dramas will bring an exciting and welcomed addition to the show."
Matt Richenthal is the Editor in Chief of TV Fanatic. Follow him on Twitter and on Google+.