Embattled and Surrounded By Negativity, Isaiah Washington Turned to Charity
Steve Marsi at . Comments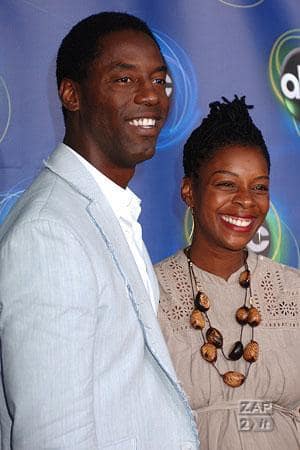 Isaiah Washington has found solace in his
charity work
with the African nation of Sierra Leone, despite all the negativity swirling around his departure from
Grey's Anatomy
in June.
"This is the thing that kept me sane," Washington told USA Today. "While all the negative stuff was happening [on Grey's Anatomy], I had all this support over there."
To soothe any bad feelings he had from the on-set altercation with co-star Patrick Dempsey, during which it was alleged that Washington uttered a homophobic slur (the context of which has been widely debated and disputed) the actor says that he immersed himself in his children's charity - the Gondobay Manga Foundation.
Isaiah Washington also tells the newspaper that he and his wife, Jenisa, are considering adoption since making their latest trip.
"There is one boy, about eight years old, who I fell in love with [in Sierra Leone]," he says. "But I'm not interested in stripping him of his culture. My wife and I have three kids already, but we have talked about adoption, and we're not ruling it out."
The actor's foundation is building a school in the Njala Kendema village in Sierra Leone, with 350 students due to start there this September.
Says Washington, who is currently shooting five episodes as part of a guest role he will play on NBC's new drama, Bionic Woman:
"I feel safer in Sierra Leone than I do in L.A., because they're my people and they are not trying to hurt you. If anything, they're going to try to get money out of you to survive."
Once Isaiah Washington found that he had a genetic connection to people of that African nation, it has helped keep him going on a regular basis.
"When I get to the point when I'm very frustrated, I go to my Web site to check e-mails from [people] all over the world who want to help out."
Steve Marsi is the Managing Editor of TV Fanatic. Follow him on Google+ or email him here.