As well all know, the new series Private Practice uproots Grey's Anatomy's Addison Montgomery (Kate Walsh), placing her in an L.A. wellness center.
Joining Kate are some new doctors, many of them men from action shows. A Canadian magazine took a look at the men of Private Practice, some of whom were killed off on their past shows, while others had their shows killed off.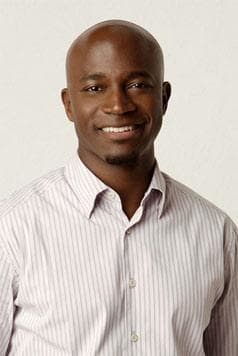 Either way, Taye Diggs, Tim Daly, Chris Lowell and
Paul Adelstein
are down for the medical comedy / drama and spin-off of
Grey's Anatomy
.
Many fans already know about smooth operator Taye Diggs (pictured), but let's take a look at what the other three male leads think about their new gig.
"It's kind of an actor's dream to play an extremist like that, and I felt in very good hands. I felt like my character was in very good hands on Prison Break," said Paul Adelstein.
"I feel like it wrapped up well. Then to go from those hands into Shonda Rhimes' hands is pretty special. It's a different kind of journey but it's a completely different character. You don't pick by genre. You pick by character if you get to pick at all."
"This is not a pick situation. This is a no brainer. This is being called to play in the big leagues and it's just a joy. So to have to, or to get to do that switch, to do it in such good, capable hands, you feel safe, like you can really take a swing at it. I'm just going to keep on using sports analogies."
Chris Lowell got his new job before Veronica Mars got the axe.
"I had signed on for a year of Veronica Mars so I wasn't sure if they were going to be bringing me back, and I don't think they were even sure," he said.
"Then there I was on top of it whether or not the show was going to. So I had started looking at some other projects. Then when this came along, I obviously didn't want to let it pass me by. So I went in for it and we were shooting the last episode when I got the phone call."
Tim Daly didn't even know what show he was hired for.
"For me, everything was top secret," said Tim Daly. "I met with Shonda Rhimes and [coproducer] Betsy [Beers] and they said, 'We can tell you a little bit about your character but we can't tell you what the show is or who's going to be on it or what it's going to be.'"
"So it was sort of a leap of faith. But when you do a series and you're looking at something that seems like it a surefire pickup, you want to look to your progenitors, the people who created you, to know that they can sustain something and not just create a script."
"So I don't know about anybody else, but that's when I started watching a lot of Grey's Anatomy episodes and I thought, 'Okay, this is going to be great. Then of course I bothered them to show me pages which eventually they did after I had already said yes."
Steve Marsi is the Managing Editor of TV Fanatic. Follow him on Google+ or email him here.