Executive producers Jason Katims and Jeffrey Reiner, along with much of the Friday Night Lights cast, gathered in L.A. last month at the TV Critics Association press tour to promote the show's second season.
Perhaps as an attempt to attract more viewers to this critically acclaimed, but relatively unnoticed show, the producers and cast were not shy about giving away hints of what the upcoming season will bring.
The new season of Friday Night Lights will begin eight months after the Dillon Panthers' state championship win from last season's finale, with the coach's wife, Tami Taylor (Connie Britton), about to give birth to their second child and a new high school football season about to begin.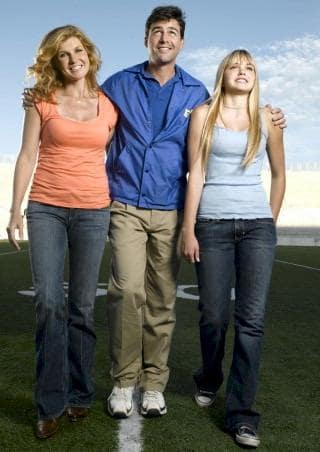 Eric, Tami and Julie Taylor form one of TV's most realistic families.
In order to improve last year's dismal marketing — advertising was initially geared toward the Monday Night Football demographic — executives are now trying to garner greater viewership among non-football fans.
The football team will still be at the center of the drama, but game scenes will be shorter and there will be an even more pronounced focus on the relationships between the many strong characters.
Another change for the new season, set to premiere on October 5, is that episodes will air on a new night and time: Fridays at 9 p.m.
Although this slot, on one of the least-watched nights of TV, has proved to be the kiss of death for many previous programs, Katims is looking at it positively.
He said that not airing on Friday night, after all, "was always a challenge" for a show with the word "Friday" in its title.
Based on acclaimed literary and cinematic predecessors of the same name, Friday Night Lights is about a small, economically depressed town in West Texas, where high school football is the biggest thing the town invests its soul and hopes in.
Starring Britton, Kyle Chandler (Early Edition, Grey's Anatomy, One Life to Live) and a supporting cast of very talented young actors, Friday Night Lights was a critical success from the beginning.
Here's hoping it soon garners the ratings to match.
Matt Richenthal is the Editor in Chief of TV Fanatic. Follow him on Twitter and on Google+.