"Are you guys talking about me?" asks Kate Walsh.
The faux fire is flashing in her languid blue-green eyes.
"'Cause I don't trust a-one of you!"
On a recent Sunday evening, the actress, who shares the same sassy style as her Grey's Anatomy alter ego, Addison Montgomery, is playing host to a large, rather loud table of actors at Hollywood's chic Ammo eatery.
It's the first-ever sit-down dinner with the cast of her hotly anticipated Grey's Anatomy spin-off, Private Practice (missing is four-time Tony winner Audra McDonald, who ended her run in Broadway's 110 in the Shade hours before).
But as TV Guide reports, the group already seems like a rowdy, frat-house family even though they've only finished their first week of shooting.
Stunning in a royal-blue version of Marilyn Monroe's cleavage-bearing Seven Year Itch dress, her plate piled high with lasagna and wild salmon, Kate Walsh is quickly shot down about the topic of discussion.
"Um, no, you egomaniac," says old friend and new cast mate Paul Adelstein (aka Secret Service agent Paul Kellerman of Prison Break). "But I gotta tell you, that dress you've got on is very good for the boobs!"
Yep, that could easily be a quip from one of the interns of Grey's Anatomy, but if Shonda Rhimes, executive producer of both shows, has been telling the truth about Private Practice's "lighter, more comedic tone," it could also be a line from her new show.
Set in sunny Santa Monica, Calif., at the Oceanside Wellness Center, a medical / holistic / psychiatric co-op run by Sam Bennett (Taye Diggs) and his ex-wife, fertility specialist Naomi (McDonald, who replaces Merrin Dungey), Private Practice finds Addison trying to "reinvent herself," as Walsh puts it, after the trauma of her disastrous relationships with McDreamy, McSteamy and McAlex.
At the center, she finds a rather good-looking group of colleagues who have achieved all they dreamed of professionally but now must figure out what the hell to do with their personal lives.
Rounding out the cast are Tim Daly (Wings) as Pete Wilder, an alternative medicine specialist and Addison's likely romantic interest; Amy Brenneman (Judging Amy) as Violet Turner, a mess of a suddenly single psychiatrist; Chris Lowell (Veronica Mars) as Dell, the resident hot surfer boy (and its receptionist) the aforementioned Adelstein as pediatrician Cooper Freedman, who fosters a nasty habit of disastrous Internet hookups.
Also added to the cast is KaDee Strickland (who wasn't in the pseudo-pilot that aired last May) as Charlotte King, the chief of staff at the nearby St. Ambrose Hospital, whose more conservative practices frequently collide with the Center's looser, laid-back atmosphere.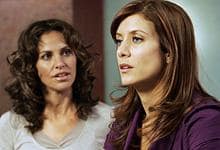 "As Shonda has said,
Grey's
was like high school," explains
Kate Walsh
, flashing the jubilee-cut diamond that her fiancé (20th Century Fox co-president of production, Alex Young) gave her a few months ago.
"But the group at the Oceanside Wellness Center are like a big, grown-up family."
"They've already been through the wringer together. Well, me, of course. I'm the newbie again, a fish out of water, just like at Seattle Grace."
She pauses before announcing, "Fly in the ointment right over here!"
Steve Marsi is the Managing Editor of TV Fanatic. Follow him on Google+ or email him here.