Heather Tom is excited to be on The Bold and the Beautiful.
She recently talked to Soap Opera Digest about the role of Katie Logan, among other topics...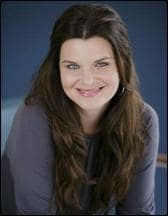 Weekly
: How has it been at
The Bold and the Beautiful
?
Heather Tom
: It's been great and fun. I'm getting to work with people I've known for many years but haven't necessarily worked with. It's a happy, easy set, which is nice. I'm having a great time.
Weekly: Who have you been most excited to work with?
Tom: I was excited to work with Susan Flannery and Katherine Kelly Lang, and I knew they were people I would definitely get to have good stuff with.
Jennifer [Gareis, Donna; ex-Grace, The Young and the Restless] and I worked together, sort of. We had scenes together, because she was involved in the Newman storyline, but Victoria didn't like her. Obviously! I don't know about now, but when I was playing her, she didn't like anybody! I'm close with Sharon Case, so I know what's going on, but I don't watch.
Weekly: How does it feel like being back in The Young and the Restless/The Bold and the Beautiful studio?
Tom: It's like the Twilight Zone. I feel like I never left. I've been gone three-and-a-half years, but it feels like I just walked out the door. It's nice. It's also nice because a lot of the crew from The Young and the Restless are now working on The Bold and the Beautiful, so I feel I know more people on B&B than Y&R now, because everyone's gone.
Weekly: How did the role come about?
Tom: [Brad Bell, executive producer/head writer of The Bold and the Beautiful] gave me a call and said, "I'm bringing this character back. I'd like you to play her." We came to a deal that's workable. It's a short-term contract for right now, which I'm happy about. I can't plan from one day to another. Just talk to me about this minute! (laughs) I had a great time on One Life to Live, but the idea of getting into another long-term contract…. I'd like to see how things go. So far, I'm having a great time.
Weekly: Is it fun working for Brad Bell?
Tom: He's the person I'd want to work for at this point. I'm very happy working for him. I'm along for the ride. We've bounced some ideas around. A nice thing is that Katie has been off the canvas for a long time and even when she was on the canvas, she wasn't fully developed. We can do whatever we want, which is great. I feel like I'm actually creating a new character, and that's exciting.
Matt Richenthal is the Editor in Chief of TV Fanatic. Follow him on Twitter and on Google+.