SOAPnet recently spoke with Aiden Turner of All My Children. Here are highlights from the interview: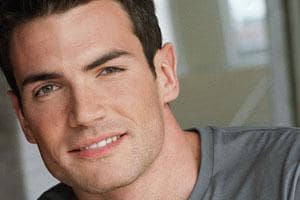 What's your idea of bliss?
Aiden: My idea of bliss? I would say, to be on a nice beautiful island like in Thailand, maybe the Phi Phi Islands. I love Thai food, I love the tropics, and it's cheap. There are beautiful beaches and you can go scuba diving everyday. There are beautiful little huts that are very basic. You're not really spending $100 for every meal like you would on other vacations. You're waking up in the morning, you're in the ocean, that's my idea of bliss.
If you could go back in time to any era, what would it be?
Aiden: Wow. If I wouldn't get killed I'd like to go back to 2000 B.C. I'd like to see them building the pyramids in Giza, which is outside of Cairo. I think the Egyptians were very advanced. I don't know too much about them but I don't think they were a necessarily fierce civilization, they knew a lot about the stars and the galaxy. Just a great people. It really intrigues me.
Who are your personal heroes?
Aiden: It would have to be my mum. Mothers teach you right from wrong and how to deal with nasty people. They teach you how to make mistakes, learn from them. I would say, that's the greatest thing because the lessons stay with you. You get to my age now and can say, I'm not going to drive fast through a city [like she warned me not to do] or when it's raining because it's silly and I've crashed the car and it costs lots of money. She's been great.
Also, Judy Wilson, the casting director at AMC. She's great at her job and she's a sweetheart. Auditions can be quite nerve-wracking. And sometimes when you're nervous the casting directors make you really, really nervous. Or you're not nervous but they're so horrible, it makes you nervous. But she was wonderful and very supportive and kind.
What's the worst thing for you about acting?
Aiden: I'm quite shy, which people don't know. So, unless I'm comfortable – and I'm normally only comfortable with people I've known for a while – I'm not at my best. If there are people I don't know around I can be intimidated and that doesn't always work when you have to turn up on a set. If there's a great deal of work and the director's shouting at you…I'm quite sensitive.
(laughing) Being as sensitive as I am sometimes it doesn't work for me. Other days, sometimes I'll have what most would think would be difficult scenes but they're not so difficult for me because I am so sensitive.
Click here to read the full interview.
Matt Richenthal is the Editor in Chief of TV Fanatic. Follow him on Twitter and on Google+.