In anticipation of Season Two of Friday Night Lights (just under two weeks away), we're taking a look at each of its 10 terrific cast members to help the show's fans learn a little more about them.
Earlier this week, we profiled Jesse Plemons, who plays hilarious outcast Landry Clarke. Today, we'll tell you about the actress who plays Landry's unlikely love interest - the lovely Adrianne Palicki.
Adrianne was born May 6, 1983, in Toledo, Ohio. She graduated from Whitmer High, and never considered acting until she appeared in a play as a sophomore at Whitmer. She was also the school's runner-up for homecoming queen.
She's not just a beauty, though. In high school, Palicki played basketball and ran track. She tried cheerleading but quit that early in life. Her parents, Nancy and Jeff, still live in West Toledo. Adrianne has one older brother, Eric.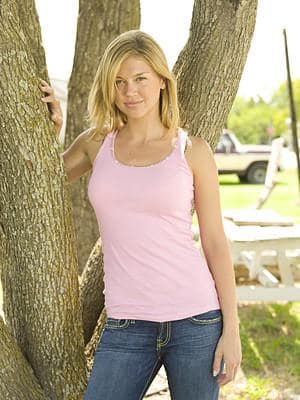 After high school, Adrianne skipped college and headed to N.Y. for a modeling and talent competition. Her first projects where short films "Rewrite" and "Getting Rachel Back," where she used her childhood nickname, Annie Palicki.
She officially began going by Adrianne Palicki again in 2003, when she moved to California. Adrianne worked at Togo's as a sandwich maker when she first got to L.A., paying the bills as she tried to break into the business.
Prior to being cast on Friday Night Lights, Palicki appeared in an Aquaman-based WB pilot Mercy Reef as an evil siren, but the pilot was not picked up by The CW.
Other TV credits of hers include Smallville as Kara in the Season Three finale, and Supernatural, where she played Jessica Moore, Sam Winchester's doomed girlfriend, killed by a demon, in its pilot. The character reappears in a Season Two episode, "What is and What Never Should Be."
A blonde beauty, who has blue eyes and strikingly stands at 5'11", Adrianne Palicki ranked #79 on the Maxim magazine Hot 100 of 2007 list.
Matt Richenthal is the Editor in Chief of TV Fanatic. Follow him on Twitter and on Google+.