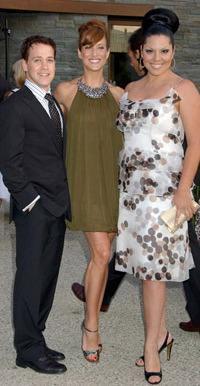 A trio of talented actors from the
Grey's Anatomy
family are featured in a
new ad campaign
preaching tolerance for gays and lesbians.
The Gay & Lesbian Alliance Against Defamation (GLAAD) on Tuesday released 25 new public service ads that it will encourage TV networks to air.
The ads feature celebrities talking about either the power of anti-gay words or the importance of accepting a gay or lesbian family member.
T.R. Knight, Sara Ramirez of Grey's Anatomy and Kate Walsh (formerly of Grey's Anatomy and now the star of Private Practice) all made their own ads.
Alexandra Billings, a transgender actress who appeared in one episode of the hit ABC medical drama, also participated in the GLAAD ad campaign.
Former star Isaiah Washington, who is filming Bionic Woman after not being offered a contract to return to Grey's Anatomy, was not included, although the actor filmed a separate PSA on behalf of GLAAD that aired on ABC earlier this year.
GLAAD did not specifically seek out Grey's Anatomy stars, Damon Romine, the organization's entertainment media director, said.
Rather, it produced the spots at its media awards event in April, and approached celebrities who appeared there to participate.
"Be an ally. Be a friend," tennis legend Martina Navratilova says in one of the spots, echoing the campaign's theme.
A handful of cable networks, including the Sundance Channel and Lifetime, have agreed to run the ads and GLAAD will be approaching more stars.
Actors Rachel Griffiths (Brothers & Sisters), Marlee Matlin (The West Wing), Rebecca Romijn (Ugly Betty) and Lance Bass (*NSync) are among the 21 other celebrities featured in the ads.
"It is incredibly important to reach out to a wide spectrum of people, to encourage the support and understanding from those who might become our straight allies and also to dispel the damaging, false myths and unfounded fears propagated by bigots and zealots," said former NBA player John Amaechi, another participant.
Steve Marsi is the Managing Editor of TV Fanatic. Follow him on Google+ or email him here.