To kick off the second season premiere of the critically acclaimed football drama Friday Night Lights, NBC has partnered with Houseparty.com to set up 1,000 house parties on September 14 in anticipation of the October 5 premiere.
Specializing in bringing an exclusive experience, such as a first taste or advance viewing, Houseparty.com helps market their partners' product via a thousand in-home events scheduled for the same day across the nation.
In this case, Houseparty.com and NBC are offering lucky fans an exclusive sneak peek at the season 2 of Friday Night Lights.
"We thought that this partnership with Houseparty.com would be a great way to reignite the excitement of the fan base for Friday Night Lights," said John Miller, Chief Marketing Officer of NBC Universal Television.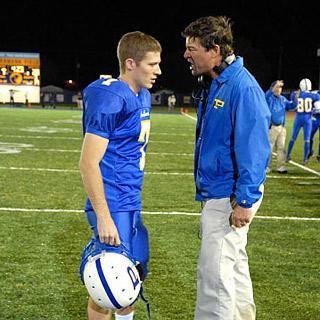 Host a house party and see Coach give Matt Saracen an earful (among other highlights from the first season of the hit series we know and love).
There is a Friday Night Lights page on Houseparty.com (see link at bottom). Hosts will have their own page to manage their parties. Potential hosts may apply at Friday Night Lights sites, NBC affiliates, or on Houseparty.com.
NBC will sponsor each party by sending out party kits to hosts. Each kit includes a sneak peek of the Season 2 premiere; a special DVD (with an introduction by stars Kyle Chandler and Connie Britton) of Episode 17 of Season One, "I Think We Should Have Sex"; a DVD of the first four episodes of season 1; and various Friday Night Lights merchandise.
Hosts will also get a sneak peek of NBC's new drama, Bionic Woman.
Learn more about hosting a Friday Night Lights party HERE!
Matt Richenthal is the Editor in Chief of TV Fanatic. Follow him on Twitter and on Google+.