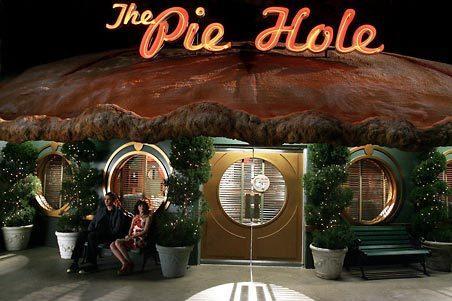 Bryan Fuller, the man behind Pushing Daisies, is a Washington native.
Therefore, he was recently featured in The Seattle Times, discussing his motivations for the show and the good fortune that has enabled him to get it on the air. Here are excerpts from the article:
At a computer dotted with action figures and surrounded by the Addams Family Values soundtrack music, Bryan Fuller created the most original, should-be-a-hit new TV show of the fall.
ABC's Pushing Daisies tells the story of magical, whimsical, romantic pie-maker Ned. Ned grew up in small-town Coeur d'Coeur and, as a boy, he discovered he could resurrect the dead.
Fuller, 38, is an ordinary human, but with unique talents of his own. His vivid imagination was birthed, in all places, teensy Clarkston, Wash. (population: 18,000. Go Bantams!). He was the youngest of five in a household dominated by the letter B: electrician dad Buck; floral designer/housewife Betty; and siblings Brad, Brenda, Becky and Brett.
And, no offense to friendly, sunny Clarkston, but there wasn't even a movie theater in town. So the kid who thrived on watching "The Twilight Zone" and who'd read sci-fi books under the covers even though it was bedtime used to hop on his bike and cross the Snake River to twice-as-big Lewiston, Idaho, to catch a flick.
Clarkston, with its paper mill, Arby's and Taco Time, lacked oomph. And from early on, Fuller itched to leave: "I knew I was going to. I just hadn't charted the escape route yet."
A talent for tracking
When he was about 15, Fuller hoped his ticket out might be Anne Rice. Yes, Rice, who penned the story of fabulous, immortal Lestat in her cult book, Interview With A Vampire.
Click here to read the full article.
Matt Richenthal is the Editor in Chief of TV Fanatic. Follow him on Twitter and on Google+.