After Shonda Rhimes and TV Guide's Michael Ausiello exchanged words about the critic's review of Private Practice, the producer of both shows gave him some hot scoop concerning the Grey's Anatomy embattled supercouple.
If you don't mind Grey's Anatomy spoilers, follow the jump to read her comments on Meredith and Derek, as well as another couple we know ...
"I want to be clear that Derek loves Meredith,"
Shonda Rhimes
said, as if to put the debate over Lexie Grey to rest once and for all. "Derek loves Meredith more than anything. I can't imagine Derek going anyplace else other than Meredith."
And as if to butter up the TV Guide sleuth even more, the Grey's Anatomy creator and executive producer handed him the biggest gift a Grey's Anatomy fan could ask for (at least in his opinion): a death certificate with O'Mizzie's name.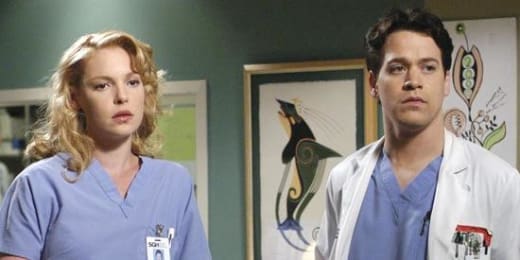 "A lot of people aren't sold on Izzie and George," Rhimes acknowledged. "I think the mistake that everyone makes is that we are telling you Izzie and George are the love story of the century; they're not the love story of the century. When other people find out about Izzie and George ... remember, people don't know about them yet â€" other people might think that's not a good idea either."
Lastly, on the red carpet, James Pickens Jr. teased that there will be some drama surrounding Richard's living situation (i.e., you won't believe who's moving in next door)! Interesting! Comments?
Steve Marsi is the Managing Editor of TV Fanatic. Follow him on Google+ or email him here.