E! Online columnist Kristin Veitch dishes a little on the upcoming guest star that poses potential problems for Derek and Meredith. This doesn't reveal a whole lot, so no real spoilers here. Just more MerDer hesitation and conflict. Will it ever end? Or will this finally help lead TV's favorite couple to a better end?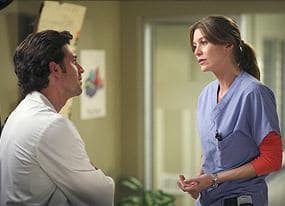 Question: Any word on Meredith Grey and Derek Shepherd? I'm so tired of the back and forth. Can they just get together or break up for good?
Answer: Now, what fun would that be?! Trust me, I feel your pain, but this is TV, and in the spirit of Sam & Diane / Ross & Rachel / Kristin & Stamos, things will get more complicated before they get any easier.
Sources confirm to me that Lauren Stamile is most definitely a new love interest for Derek (Patrick Dempsey), and she'll be sticking around for a while. I'm told she's pretty much the anti-Meredith (all the way around â€" looks and personality) and will make Derek somewhat conflicted... at least in the short run.
What do you think? Are you losing faith in Mer and Der? Or is this just what the doctor ordered to help them get their respective acts together?
Steve Marsi is the Managing Editor of TV Fanatic. Follow him on Google+ or email him here.