We're coming up on 24 hours to showtime and TV Guide's Michael Ausiello has some interesting Grey's Anatomy spoilers and news in his latest column. We have excerpts from the venerable TV sleuth's weekly Q & A below...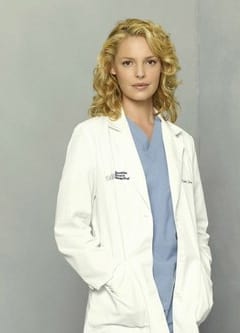 Q:
Did Shonda Rhimes mislead everyone? Is she reviving the George and Izzie plot line instead of killing it? It sure looked that way in the premiere and the
previews
for this week's episode.
A: You should know by now that those promos only tell half the story. Take it from someone who has seen the entire episode, the couple is dealt a setback this Thursday when George ... let's just say ... he makes an important decision that sets the stage for Episode 3, "Let the Truth Sting." Keep in mind, Shonda hinted that that the fling wouldn't come undone until word got around Seattle Grace. In other news, Derek also makes a decision at the end of the episode that'll make all you Mer-Der fans swoon.
Q:
Can you please provide some
Grey's Anatomy
scoop? Preferably on whether or not Cristina will get a new love interest.
A: Before she can get a new love, she has to purge the old one from her system. And she'll do just that this Thursday when Mama Burke drops by Seattle Grace to administer a dose of tough love. And Cristina isn't the only person she goes all Dr. Phil on. Diahann Carroll takes Meredith to task for a "selfish," "inappropriate" thing she did in May's season finale. And don't even think of asking for a hint.
Q: I hear you've seen this week's Grey's Anatomy. Please tell me it's better than the season premiere. Izzie tending to a deer? WTF?
A: I forgot to tell you the most important thing about Thursday: It's fraktacular! If you were longing for the good ol' Grey's Anatomy, it makes a big comeback tomorrow night. It has all the snap, crackle and pop of a Season 2 episode. And speaking of triumphs, Chandra Wilson gives a performance that has "2008 Emmy Reel" written all over it. I know it's early, but I'm gonna go out on a limb and say that Supporting Actress trophy is hers to lose.
Steve Marsi is the Managing Editor of TV Fanatic. Follow him on Google+ or email him here.