Not only does Kate Walsh have a brand new hit TV show in Private Practice, but she also has a brand new husband in Alex Young.
Her first weeks of marriage have thus been filled with lots of living, loving, learning... and picking up after their dog.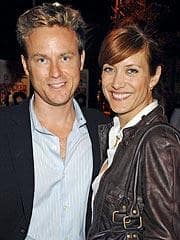 "There was this kind of funny moment, after we were like we're married and all of the hoopla was over and we were like, 'What do we do now?'" Kate Walsh told Ellen DeGeneres on her show Tuesday.
"We're married. Alright, I guess we just live and love and learn from each other."
The 39-year-old actress wed Alex Young, 36, a production co-president at 20th Century Fox, over Labor Day weekend in the town of Ojai north of Los Angeles.
The star tells DeGeneres that she's been married for five weeks but soon corrected herself: "Actually five and a half weeks," she says.
Ellen DeGeneres then complimented the former member of the Grey's Anatomy cast on her wedding ring. Walsh couldn't hide her excitement. "Thank you," she said, giggling. "It was a gift from my husband."
She also jokingly offered the massive diamond to Ellen DeGeneres as a token of appreciation for her success. Ellen memorably phoned Steve McPherson, ABC Entertainment President, to ask if
Private Practice
would be picked up - with Walsh nervously sitting as her guest on live TV.
"I think I'm pretty responsible for your job," DeGeneres says.
But it's not all glitz and glamour for Walsh, who turns 40 this week. Kate says she still gets down and dirty - especially when it comes to their dog.
"Basically everything's the same except that we have a bigger house. I still pick up my own dog poop," she tells the talk-show host.
"You just can't ask someone to do that. I can't. People are like, 'Listen there's a service.' I'm like, I can't in good faith," she says. "It's a good exercise in humility. You just got to get down there ... There's nothing like a picture of me in the backyard holding up a bag of poop!"
So well put.
Steve Marsi is the Managing Editor of TV Fanatic. Follow him on Google+ or email him here.