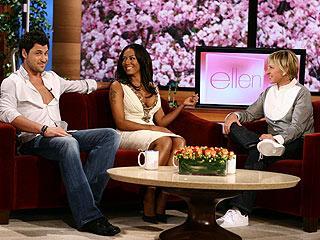 In an interview airing later today on The Ellen DeGeneres show,
Maksim Chmerkovskiy
and Melanie Brown joke about the former's past dancing experience.
DeGeneres asks Brown  if all those song-and-dance routines from her years with the Spice Girls are helping her on Dancing with the Stars.
"Well, the Spice Girls were, like, routines for six-year-olds," Brown jokes, while Chmerkovskiy busts some Spice Girls moves to the delight of the crwd.
Scary Spice also chats about the upcoming Spice Girls reunion tour, which kicks off on December 2 in Vancouver, and somehow sold out for the first London performance in a mere 38 seconds.
"How does that happen?" DeGeneres asks. "38 seconds."
"I was amazed," replies Brown. "I did actually think, 'How is that possible. Is there a lot of people on the phone in one big room?' I don't get it… I was really shocked. Wow! We really have to do it now."
"Yeah. You were just testing it out to see if anyone cared," DeGeneres jokes. "Are you excited about it?"
"Very excited."
Matt Richenthal is the Editor in Chief of TV Fanatic. Follow him on Twitter and on Google+.