Round Table: "The Heart of the Matter"
Steve Marsi at .
While fans gather in our forum to discuss their beloved character and story lines, the Grey's Anatomy Insider staff comes together to talk about their highlights, gripes and opinions regarding the most recent episode of TV's best show.
Round Table discussion topics for "The Heart of the Matter" range from Cristina's fragile emotional state, to George's confession and newcomer Lexie ...
1. Was Richard right to honor Camille's wishes?
McCritic: Yes. Like Texas Hold 'Em, patient care cannot be based on emotion. As her doctor, Richard had no choice but to abide by his niece's desire for a pain-free remaining few months of life. It's tough, but no one said being a doctor - or the President of the United States - was easy.
iheartizzie: Richard did the right thing in dealing with Camille, weighing his role as a surgeon with the compassion of a caring uncle. With a nuanced portrayal of  that internal conflict, James Pickens, Jr. again proved he's one of the best in the business, despite being overshadowed by his more famous fellow cast members.
AndYouveGotTheHair: I felt bad for Camille and her whole family, but I don't think Richard had much of a choice. I was also saddened by Adele's response.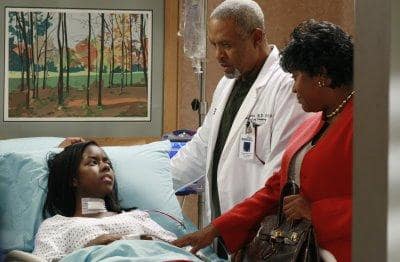 2. When will Callie forgive George?

iheartizzie: Sometime around Beer-thirty. Callie just needs to loosen up and knock back a few with George at Joe's. They'll hug it out and that will be that.
McCritic: It's hard to say. Either half past infinity, or a quarter to never!
AndYouveGotTheHair: I don't think she will. This relationship wasn't exactly stable to begin with, and even though he said he slept with Izzie - rather than in love with Izzie - I don't see O'Callie recovering from this incident.

3. What was your favorite Grey's Anatomy quote of the night?
AndYouveGotTheHair: Derek's speech to Meredith. He doesn't want 48 uninterrupted hours... he wants a lifetime. How can she resist!?
McCritic: Izzie being labeled a "traitorous bitch." Well said, Callie. Although I would've added "emotional, selfish train wreck," as well.
iheartizzie: Alex's bitter (and justified) reaction to Izzie's confession. Harsh, yes, but certainly honest and revealing. Karev is quickly becoming a favorite of mine.
4. Norman the old intern: Haplessly charming or annoyingly inept?
McCritic: Haplessly charming. As long as I'm never a patient under his care.
iheartizzie: I can handle the Big N (look how he towers over Ellen Pompeo in the pic below) in small doses, but he is annoyingly inept... and takes screen time away from some of the principal cast members (Bailey) who don't get enough.

AndYouveGotTheHair: Haplessly charming. He means well. "'Sup, Lexie?" Come on, how can you not like him? At least a little.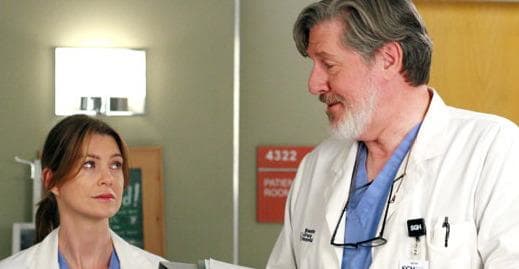 5. Will Meredith give Derek what he wants?

AndYouveGotTheHair: Yes, eventually. But she had better get a move on, lest he go looking elsewhere for it while she's waffling. Come on, girl!
McCritic: No. He's picked picked her, chosen her, loved her... and it's still not enough. This relationship is more one-sided than a matchup of the Dillon Panthers and New England Patriots.
iheartizzie: There was a time (I believe Season 2) where Meredith was willing to give him her whole life, and then he chose Addison. But he came around. How is it not enough for her now? Do you really only want what you can't have?
Steve Marsi is the Managing Editor of TV Fanatic. Follow him on Google+ or email him here.