Remember when Deidre Hall's Days of Our Lives character, Dr. Marlena Evans, was possessed by demonic forces?
You'll soon get a chance to: in celebration of Halloween, those memorable Days of Our Lives installments will be re-broadcast over SOAPnet later this month.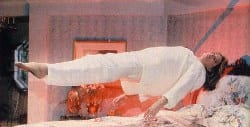 Around Halloween this year, the all-soap opera channel will showcase a mini-marathon featuring three of the most notorious episodes in the colorful history of the Days of Our Lives franchise.
On October 28, episodes numbered 7,528, 7,531 and 7,570 will air anew over SOAPnet,  starting at 9 p.m.
In episode 7,528, Kristen (Eileen Davidson) has caught on to Marlena, even as the possessed Salem psychiatrist transforms into a panther and gets a swarm of bees to attack the aging Shawn Brady (Frank Parker).  This installment originally aired on May 12, 1995.
The second episode that night features Marlena levitating in front of her stunned loved ones.  When they attempt to communicate with her, she responds as Satan; exorcism is the only recourse.  Episode 7,531 was originally broadcast May 17, 1995.
The final installment scheduled to close out the marathon is episode 7,570, which first aired July 18, 1995.  In it, John Black (Drake Hogestyn) fights the devil for Marlena's soul, as the rest of her family and friends believe she is already dead.
Enjoy them all!
Matt Richenthal is the Editor in Chief of TV Fanatic. Follow him on Twitter and on Google+.