Walt Willey and Thorsten Kaye are good friends now, but the relationship started off a bit icier.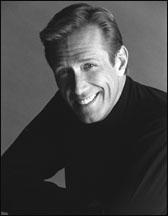 Before Kaye took on his
All My Children
role, Willey was the co-host of SOAPnet's Daytime Emmy Red Carpet coverage – and, at the time, he didn't appreciate Kaye's response when was asked about taking on the new gig.
"He said, '[I'm gonna be t]aking all your airtime.' And we're live and they're not my first guests and I'm just … I will never forgive myself for not cutting him off at the knees right there," Willey recounted. "Of course, it turned out to be true, which is even worse – he did take all my airtime, and a few other people's."
Willey can joke about it now, of course, because he has learned Kaye's sense of humor. But it's a funny way to begin what's grown into a tight friendship.
Matt Richenthal is the Editor in Chief of TV Fanatic. Follow him on Twitter and on Google+.