Last night, Brad faced both Jenni Croft and DeAnna Pappas, as well as all of America, to answer their questions on what went wrong on The Bachelor.
Host Chris Harrison interviews Jenni, who admits she was completely shocked Brad didn't choose her. She felt "mislead" by Brad Womack, especially given many little comments that he'd said to her along the way.
Jenni shows class in saying how disappointed she was to see Brad Womack do the same thing to DeAnna Pappas, especially given the way it was handled (giving her that ray of hope just as he dropped the "but").
Jenni Croft says Brad should have given someone a chance, even in the form of dating. But next we get to hear what DeAnna Pappas has to say.
She still seems confused, a little bit angry... and maybe a little hopeful that Brad will reverse his decision on this night and choose her for real.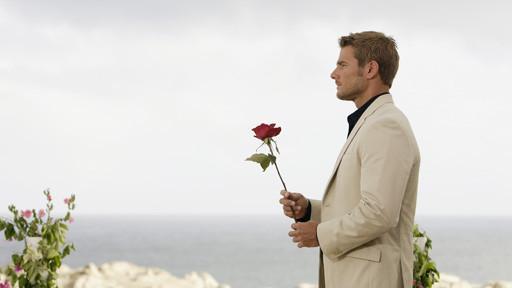 In the end, Brad Womack stood alone.
"I'm angry because it's so confusing... did he think something better was going to come along?" DeAnna said, admitting that she's thought about him every day since and she'd say yes if he asked her for another chance.
Brad Womack then arrives to a mixture of applause and boos. He says that he made his decision because he didn't want to make any false promises. Boo.
Chris lets it slip that Brad actually asked the network fly DeAnna's father out for the final ceremony, so Brad could ask for her hand in marriage. His gut told him something was wrong when he went to buy the ring, however.
Jenni Croft comes out to join him and Brad Womack says it "hurts deep" to have Jenni lose respect for him. He feels he showed respect by walking.
DeAnna takes Jenni Croft's place then and is nervous. "Please don't hold it against me that I didn't fall in love. I'm just as heartbroken as you are."
Brad says to DeAnna Pappas that he thinks about her every single day, and just as it sounds like maybe he might be going to throw us for another loop by taking her back, DeAnna tries to force the issue... and Brad Womack replies that he's "very confident" in his decision, crushing her once again.
DeAnna can't hold back and cries, "[You're] the one person that I trusted most out of all of this, and you broke my heart."
Matt Richenthal is the Editor in Chief of TV Fanatic. Follow him on Twitter and on Google+.