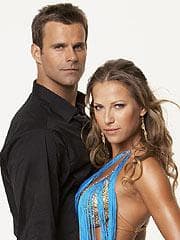 It was quite the run. But the votes finally were tallied for Cameron Mathison last night and the daytime hunk was eliminated from Dancing with the Stars.
"I don't know what I'm going to do with time off," Mathison told host Tom Bergeron. "Not one single bit of me wants to go home."
From their sound bites, it appeared as though his cast mates felt the same way.
Helio Castroneves, the last man standing in the competition for next week's semifinals, said he "lost my wing man. Cameron is the Super C! He's a really great guy and we're going to miss him."
Meanwhile, Melanie Brown referred to the All My Children star as "hilariously funny," while Mathison's pro partner, Edyta Sliwinska, said: "I've loved every minute of dancing with Cameron. I'm truly proud of him. I never thought we were going to go so far."
How does Cameron feel about the overall experience?
"Dancing in front of 20 million people on live television is one of the last things I thought I'd ever do a couple years ago," Mathison told People magazine after the show. "I am proud that I could dive into something that I knew nothing about, something I am very uncomfortable doing and with perseverance and hard work, I can become comfortable and grow. I know it sounds corny, but I'm really proud of that."
Matt Richenthal is the Editor in Chief of TV Fanatic. Follow him on Twitter and on Google+.