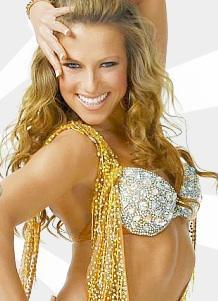 Edyta Sliwinska has never won Dancing with the Stars.
But she'll still alive this season, partnered with All My Children actor Cameron Mathison. Our pals at BuddyTV recently spoke with the beauty...
The big news so far is that Sabrina Bryan was eliminated, and a lot of our readers were really shocked when that happened. What was your reaction?
Yeah, I was really shocked, standing there in the bottom two next to Sabrina, I was sure it was going to be us. And I think that was really unfortunate because Sabrina was probably one of the best female dancer celebrities that has ever been on.
So, it's been very shocking, very weird. I don't really know how that happened. I guess people thought that she's so safe that they don't need to vote for her. I guess that's what happened. That's the only explanation that I can give.
What do you think your chances of winning this season are?
Well, after last week, I'm a little bit scared because, apparently, no one is safe and I know that Cameron is maybe not the best dancer there, but he's really improving. And who knows? Maybe if the viewers are gonna give us enough time, he can improve and he can be as good as Melanie Brown, who's getting triple tens.
So, I really believe that he can win it if the viewers will support him. I think he is good enough, dance abilities and drive and work ethic, to do it.
Click here to read the full interview.
Matt Richenthal is the Editor in Chief of TV Fanatic. Follow him on Twitter and on Google+.