You may think that, as of last Friday's episode of Friday Night Lights, the Landry and Tyra murder plot line would be over. Well, the Chicago Tribune reports today, you might want to rethink that position.
The December 7 episode of the show is entitled "The Confession" and yes, that means what you think it means. Though Landry confessed about what he did to his cop dad in the November 9 episode, "How Did I Get Here," there could be a more public admission coming in a couple of weeks.
That December 7 episode also features the return of Kevin Rankin (who's been moonlighting on Bionic Woman) as Herc, Jason Street's buddy.
As for this Friday's episode, "Pantherama," it features the first of a few guest appearances by Austin Nichols of John From Cincinnati fame.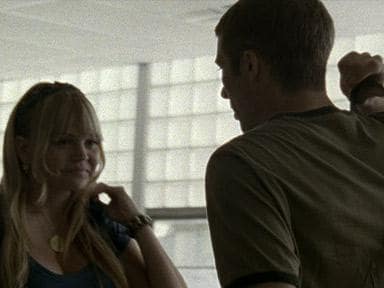 Austin Nichols will reportedly play Noah, a teacher at the high school who forms a somewhat unlikely bond with Julie Taylor (Aimee Teegarden).
In other Friday Night Lights news, rumors that the show is moving to ESPN are false according to an NBC spokesman, who says no, it's not happening.
Follow the jump for few thoughts about this season of Friday Night Lights thus far, courtesy of the Chicago Tribune's Maureen Ryan...
I've been among those who haven't liked the Landry story from the start. True, it has given
Jesse Plemons
(who plays Landry) and Adrianne Palicki, who plays Tyra, some opportunities to do very powerful work.
In particular Tyra's cruel breakup with Landry was painfully well done: It was clear she was being terrible to him so that he'd stay away for good, but being so mean to him clearly cost her a lot. As for Jesse Plemons - the way he walked away from that conversation just proved he's a phenomenal actor.
Without a word, his body language was that of a young man whose heart has just been shredded. I've also greatly enjoyed Glenn Morshower as Landry's dad. The two actors not only look alike, but the able Morshower also fit right in to the show's improvisational, natural aesthetic.
That said, I think that plot threw the show off balance. It just seemed too obvious and conventional for this show. I struggled with that, just as I'm still struggling with the idea that Landry could have gotten a spot on the Panther squad and had a moment in the sun during a key football game.
Still, there are those Friday Night Lights moments we live for.
The most recent one: Jason Street (Scott Porter) telling Coach Eric Taylor (Kyle Chandler) that Street was resigning from the team - especially when Taylor told Street that he hoped he hadn't let the young man down.
And of course Connie Britton is reliably great as Tami. And it's been kind of enjoyable to see Matt Saracen (Zach Gilford) exact revenge on his ex, Julie.
There were even some satisfying moments in the Mexico story line with Jason, Tim Riggins (Taylor Kitsch) and Lyla (Minka Kelly). And for some reason, the scene of the Riggins brothers in Tami's guidance office cracked me up.
There's usually a line or two every episode that makes me laugh - how priceless was the sex advice that Coach Taylor got from Coach Mac McGill a couple of episodes back? That was comedy gold, pure and simple.
Given that Friday Night Lights might shut down production - possibly for good - in a few weeks, I'm more inclined to celebrate it, quite frankly, than talk about its faults. But I only dissect this show because I care so much.
Matt Richenthal is the Editor in Chief of TV Fanatic. Follow him on Twitter and on Google+.