Below are the Grey's Anatomy music selections featured throughout this week's "Physical Attraction, Chemical Reaction" with links to the lyrics (help us out if you can by leaving a comment) along with when each song appeared in the episode.
You can always find this info on the left side of our weekly Grey's episode guides, or by searching our entire comprehensive Grey's Anatomy music directory by episode, artist or song. But here are this week's awesome selections ...
1. Derek Webb, "Name"
At the beginning, George and Izzie lay in bed, Meredith and Derek lay in bed, and Cristina paints her apartment a happy color. Red, like blood.
2. Northern State, "iluvitwhenya"
Bailey walks in on Callie's surgery.
3. Joe Purdy, "San Jose"
Erica and Meredith test the success of their lung surgery. Richard talks to Callie about her problems, and later, Erica tells Sean that his wife didn't make it.
4. Calahan, "Pouring On The Gasoline"
Lexie cries to Joe and Mark tries (unsuccessfully) to hit on Erica.
5. Priscilla Ahn, "Rain"
Meredith asks Alex if he will please Lexie home, Callie comes home, fired, to see that Cristina painting. Alex drops Lexie off and sees a drunk Thatcher. George and Izzie totally lie about how great their most recent efforts in bed were.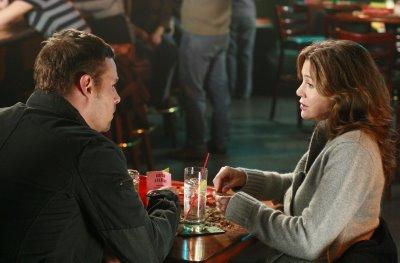 Steve Marsi is the Managing Editor of TV Fanatic. Follow him on Google+ or email him here.