They were rumored to not get along on the set of Beverly Hills 90210 - but it sounds like Shannen Doherty has nothing but respect for Jennie Garth on Dancing with the Stars.
"She is amazing," Doherty said to People magazine at a promotional junket for her November 25 ABC Family original movie Christmas Caper. "Ian (Ziering) did great on it and Jennie is doing great on it."
Don't look for Doherty to be Dancing with the Stars at any point, though.
"Dancing with the Stars actually offered it to me the very first one that they did and I have an issue being judgedâ€"I'm not a big fan of it," Doherty said. "But I love the show."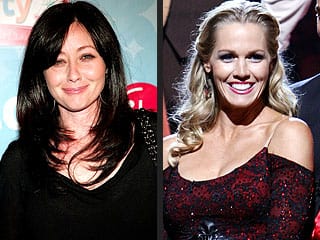 The 36-year-old Doherty, who's single and lives in Los Angeles, says she tunes in every week to see how Garth and the other celebrities are doing on the show.
"We're TV actors. We're not used to performing live," Doherty said, referring to how well Garth handles the pressure. "We do takes and we get to mess up and we know that we're going to have another take where we get to be perfect...
[On Dancing] You've got to nail it the first time perfectly. It's a lot of pressure and a lot of nerves come from a show like that. I admire people that can do that. I'm not one of them."
Matt Richenthal is the Editor in Chief of TV Fanatic. Follow him on Twitter and on Google+.