Might soap opera writers be the first to cross the picket lines of the Writers Guild of America?
Variety reports that a high-ranking writer-producer on The Young and the Restless has informed the WGA that he plans to go "financial core;" i.e. give up full membership in the guild and withhold the dues spent on political activities in order to continue writing during the strike.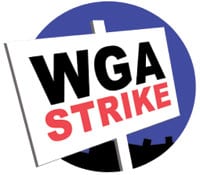 Another source with knowledge of the situation added that two other scribes on
The Young and the Restless
will follow suit, while a writer on Days of Our Lives may also be considering crossing the picket line.
The WGA  refused to comment on the rumors yesterday and there have been no reports of writers on primetime or latenight series picking up their pens.
Daytime, however, is different.
Ratings for most soap operas have been dropping for years, with several sudsers barely hanging on. NBC, for example, has made it clear that Days of Our Lives may not be renewed when its license agreement expires.
That's one reason why networks have been scrambling to make sure their soaps stay in production. After all, a long stretch of pre-emptions or repeats could prove fatal.
During the 1988 walkout, network and studio executives were enlisted to keep the daytime dramas fresh. There were also widespread reports of WGA scribes writing scripts at home and finding a way to get those scripts into producers' hands without physically crossing a picket line.
"You'd hear stories about scripts being dropped off behind a trash can or in an alley," a soap opera veteran said to Variety.
Still, the majority of soap scribes appear to be keeping their computers turned off.
In the case of The Young and the Restless, production entities Sony Pictures Television and Bell Dramatic Serial Co. appear to have settled in for the long haul.
During a meeting last week, staffers on the show were all but told that the show would go on without executive producer-head writer Lynn Marie Latham, who is known to be a strong WGA supporter; producers have prepared for her absence by laying off her assistant, cleaning out her desk and assigning a Sony exec to work from her office, according to a person familiar with the situation.
The Bold and the Beautiful showrunner Bradley Bell - whose family owns the series - has also demonstrated allegiance to the WGA and the strike. He walked the picket line in front of CBS Television City on the first day of the stoppage.
Matt Richenthal is the Editor in Chief of TV Fanatic. Follow him on Twitter and on Google+.