Now that Cameron Mathison has officially been voted off Dancing with the Stars, co-star Thorsten Kaye can only answer one more round of questions about the competition with Soap Opera Digest.
Here's the final Q&A on the topic...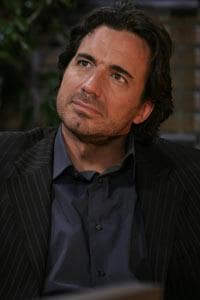 How do you feel about Cameron getting the boot?
To be honest, I'm a little pissed off. The worst dancer didn't leave. Actors tell stories for other people that are alive, and Cameron did that. I think you have figured out by now that I am not really a dancer. But I do enjoy a great performance. Cameron went out there with courage and integrity and a tremendous amount of class, and he was not given the same respect.
The judges kept talking about his outfits. He didn't pick his outfits. The show picked his outfits. It's not like he had a suede vest in his suitcase and he just pulled it out to dance in. They can't judge a person for that, but they did. For my 35 cents, Cameron was the most entertaining.

How about the four people who are left?
I don't want to name any names, but one of those semi-finalists is entertaining like a car wreck. I don't see what art she is creating. The story she is creating is for herself, not the audience. But Cameron is okay with it, so I am too. I just don't think the worst dancer left, that's all.
The worst dancer certainly didn't leave when that Cheetah girl got voted off, either.
I was surprised by that, too. I think the person who left this week was the hardest worker. Hard work should be rewarded.
By that argument, Mark Cuban should still be in then.
He had hip replacement in July! Cuban was rewarded by not getting voted off FIRST, because he dances like me.
Did you give Cameron any advice about going back to his regular life?
He doesn't have a regular life. The guy still has 40 jobs and there are always at least two camera crews following him. I think he's doing a reality show now: "Behind the Dance, Starring Cameron Mathison."
Will Cameron miss dancing?
No, because he's not going to put it away. It's in his blood now. If you've been watching All My Children — which we all should — there's a different flow to his character now. He glides across to Annie now with more of a purpose. He's going to have to come out and thank the competition for that. But for now, fans just have to enjoy his movement on All My Children.
Matt Richenthal is the Editor in Chief of TV Fanatic. Follow him on Twitter and on Google+.