Bettina Bell finally opened up to Brad Womack - but it was apparently too little, too late - as the 27-year-old, tearful Washington native was sent packing during The Bachelor's seventh episode Monday on ABC.
"I am really, really shocked. I completely, completely ... was falling in love with him, and... I did not see this coming at all," said Bettina after Brad narrowed the field to two - Jenni Croft and DeAnna Pappas.
"I trusted that I was falling in love with Brad and he was falling in love with me, and that was not the case. I can't even imagine right now putting myself out there again. I can't even imagine it. I think I just fell in love by myself... I think I just completely fell in love by myself."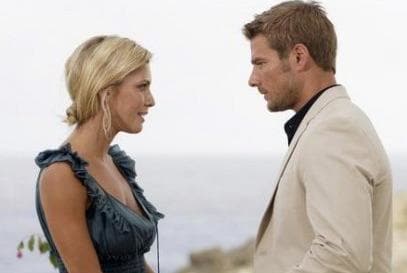 Bettina Bell made probably her biggest impression during the show's hometown visits, when her D.C. dad was cast as a reality TV villain.
Georgetown architect Robert Bell got all frosty on Bachelor Brad Womack in the episode that aired the previous Monday after learning his daughter's Texas-based suitor is a college dropout who runs a group of bars.
"A great disappointment," the father of Bettina Bell said, laughing darkly on camera. "It would be nice if he had a PhD."
Damn. Tell us what you really think! Mr. Bell was much sweeter on the phone, telling the Washington Post: "[Brad Womack] is an extremely nice person; I'd be happy to have him back anytime in my house. But I'm not sure I'd want my daughter to marry someone who comes home every night at 2 a.m."
How was it bringing cameras into an intimate family moment?
"As long as you get it's just TV, it's a lot of fun, even if you play the bad guy."
Unfortunately, Bettina Bell - a real estate agent in Los Angeles vying with two other finalists - did not "win" a Womack proposal at the end.
Did he see it coming? Says Dad: "I'm just like you - I had no idea."
Matt Richenthal is the Editor in Chief of TV Fanatic. Follow him on Twitter and on Google+.