Soap Opera Digest caught up with Walt Willey after the performance of his All My Children co-star on Dancing with the Stars.
So, how did he think Cameron Mathison did after week six?
Q: What were your impressions of Cameron this week?
Walt Willey: I thought he was Captain John Smith on steroids. I told him the other day, "You are my hero. You are calming down and enjoying yourself." He's relaxed, and he looks great. I asked how much weight he's lost, and he said, "I've lost two pounds. I've driven all the water out of my body and made leaner muscle mass." He's pretty psyched about that.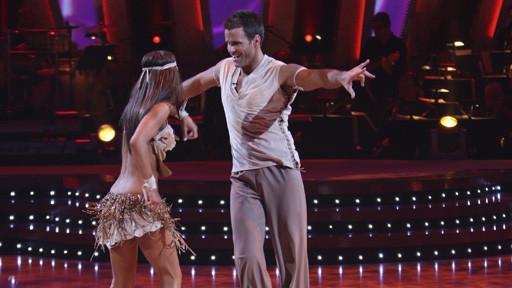 Q: What did you think about the little headbands on his arms?
Willey: They were a little too Village People for me. But dancing with Disney Property was a really good idea. "Hey, you be Pocahontas!"
Q: What did you think of Cameron's boast at the end?
Willey: I think he is really sorry that he said "I'll take off my shirt if you vote me into the finals." I could see the regret fill his big wide eyes. I could see him thinking, "I can't believe I said I'll do this in a thong if I get to the finals because they'll make me do it. Why do I always do things like that?!"
Matt Richenthal is the Editor in Chief of TV Fanatic. Follow him on Twitter and on Google+.