The nominations for the 65th annual Golden Globe Awards, which will be presented on January 13, have officially been announced, and Grey's Anatomy is up for Best TV Drama against Big Love, Damages, House, Mad Men and The Tudors!
Also nominated in the Best Supporting Actress (Drama) category is Katherine Heigl, who continues to earn accolades for her portrayal of Dr. Izzie Stevens.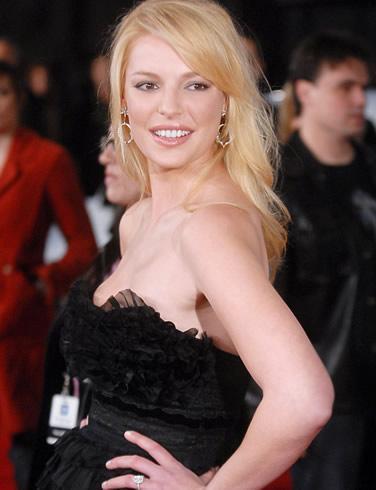 The talented Katherine Heigl is in the running for a Golden Globe Award.
Katherine Heigl has already said she will not be on hand at the ceremony if the writers' strike persists, telling Entertainment Tonight: "I'm not crossing the picket line unless I'm contractually obliged to do so. And I'm not with the Golden Globes."
Follow the jump for the complete list of Golden Globe nominees in the TV field. The link above will take you a Variety list that also includes the film categories...
DRAMA
"Big Love"
"Damages"
"Grey's Anatomy"
"House"
"Mad Men"
"The Tudors"
MUSICAL OR COMEDY
"30 Rock"
"Californication"
"Entourage"
"Extras"
"Pushing Daisies"
ACTOR (DRAMA)
Michael C. Hall - "Dexter"
Jon Hamm - "Mad Men"
Hugh Laurie - "House"
Jonathan Rhys Meyers - "The Tudors"
Bill Paxton - "Big Love"
ACTRESS (DRAMA)
Patricia Arquette - "Medium"
Glenn Close - "Damages"
Minnie Driver - "The Riches"
Edie Falco - "The Sopranos"
Sally Field - "Brothers & Sisters"
Holly Hunter - "Saving Grace"
Kyra Sedgwick - "The Closer"
ACTOR (MUSICAL OR COMEDY)
Alec Baldwin - "30 Rock"
Steve Carell - "The Office"
David Duchovny - "Californication"
Ricky Gervais - "The Office"
Lee Pace - "Pushing Daisies"
ACTRESS (MUSICAL OR COMEDY)
Christina Applegate
America Ferrara
Tina Fey
Anna Friel
Mary-Louise Parker
MINISERIES OR TV MOVIE
"Bury My Heart at Wounded Knee"
"The Company"
"5 Days"
"The State Within"
"Longford"
ACTRESS (MINISERIES OR TV MOVIE)
Bryce Dallas Howard
Debra Messing
Queen Latifah
Sissy Spacek
Ruth Wilson
ACTOR (MINISERIES OR TV MOVIE)
Adam Beach
Ernest Borgnine
Jim Broadbent
Jason Isaacs
James Nesbitt
SUPPORTING ACTRESS
Rose Byrne
Rachel Griffiths
Katherine Heigl
Samantha Morton
Anna Paquin
Jamie Pressly
SUPPORTING ACTOR
Ted Danson
Kevin Dillon
Jeremy Piven
Andy Serkis
William Shatner
Donald Sutherland
Steve Marsi is the Managing Editor of TV Fanatic. Follow him on Google+ or email him here.